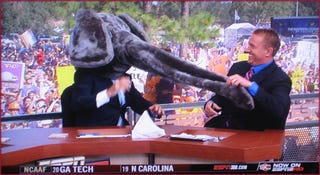 So after watching Georgia pull out a win against Kentucky and the unheralded Cowboys of Wyoming giddyup into Knoxville and knock off the Vols (more on that later), it's time for the big 3:30 game. Alabama scored early on a John Parker Wilson keeper, but LSU has answered with two scores of their own. Arguably for the first time all season, Alabama appears to have their hands full.
No. 15 LSU 14, No. 1 Alabama 7, 2nd Quarter. No. 9 Boise State 28, Utah State 14, 3rd Quarter.
Boise State appears to be taking care of business. Two things about the Broncos. First, they round out their schedule at Idaho, at Nevada, and finish with Fresno State at home. Secondly, none of that could matter, as only one non-BCS conference team in the top 12 is guaranteed a big boy bowl. And Utah, two spots above Boise State in the BCS rankings, is really fucking with their destiny as it stands now.
No. 3 Penn State 10, Iowa 7.
Come to Penn Staaaaaaaaaaate! /shits pants
wait, what? oh, Nick Saban's back in town! And here I thought that with all that unfounded hate towards guys in red jerseys the Tigers must've been playing USC Trojans.
-SpaceCowgirl01
John Parker Wilson just picked up a 15-yard flag for imitating the Verizon guy after scoring.
—Signal2Noise
The Jug stays in Michigan, Pam Ward still sucks, and Nick Sheridan does not equal death. It's a good day
—Yostal
Wyoming just beat Tennessee in the "Two places no one wants to live Bowl"
—Cjbrownb
Tennesse falls at home to the Wyoming. If you listen very closely, you can actually hear Clay crying in the distance.
—Anskyman2004