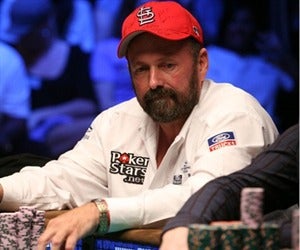 ESPN's gambit to shut down the World Series of Poker for four months to give them time to pump up the nine participants at the final table (and position the final table action in a better time slot and month for them) seems to have paid off, with ratings up on the shows leading up to the main event's final table.
That table took their seats today at 10 am
local time and will play until two are left, allowing for another round of television love on
Monday
Tuesday (see after the jump for proper details). The nine players left have become minor celebrities, including one that got to meet Albert Pujols and throw out the first pitch at Busch Stadium just because he wore a Cardinals hat during his summer work. A fan club has been built for at least one other. All have been taking advantage of the new-found fame to work on their game in larger tournaments than they ever could have entered before. Therefore, they're all winners now and don't even need to play the final table. (Except, you know, the eight that lose the chance at $9m. That's still kinda important.) UPDATE: The Main Event final table goodness
will be played Sunday and Monday
as promised above, but the televised event is Tuesday 9-11 pm ET on the Worldwide Leader. Thanks to Rock You Like an Iracane for the correction. By the way, we hear through unnamed sources that
he's liveblogging the event
.
World Series of Poker nears finish
[Las Vegas Review-Journal]