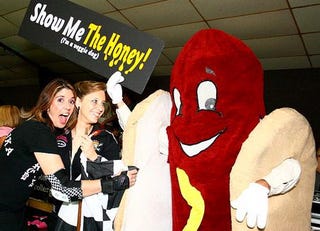 You may know Dave Wasser as the world's
foremost collector of North American Soccer League game tapes
(who doesn't?). But there is much, much more to the Austin, TX resident than that; he's a true Renaissance man. Just look at the photo above, and when your realize that he's not one of the chicks, it hits you. Dave Wasser has the most awesome job in the world. Costumed roller derby hot dog mascot. And he's a
vegetarinan
hot dog. From Wasser's
Q&A on Fracture
:
When and how did you become a derby mascot? Why become a giant veggie hot dog?
A wiener is a phallic symbol, and I appreciate the irony of putting wiener into a female sport. Also I'm an ethical vegetarian, and I want to show that veggie dogs can have some attitude.
There are drawbacks, however. Being a veggie dog, Wasser is often the subject of vicious pummelings by the meat-eating roller derby public. Witness one such incident: And now just because we're on the subject, here's a pretty awesome roller derby takedown. "Is she alright?" Here's to you, Dave. No matter what the world throws at me from here on out, I will survive it. Because my spirit will never fail to be uplifted by the thought of you at home, watching an old Detroit Cougars vs. Washington Whips game while in your hot dog suit.
Hotrod Dog
[Fracture]