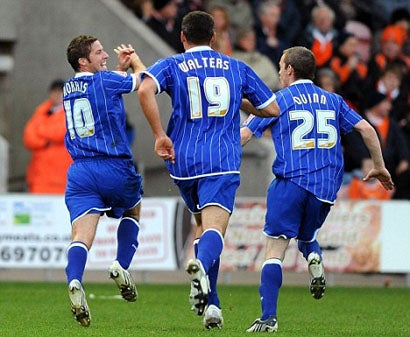 Although there are nearly two months remaining, I'm closing nominations for Deadspin Asshat of the Year, European Division. With 80 percent of the precincts reporting, I'm calling the election for, Ipswich Town midfielder David Norris (applause). Norris is shown here making a "handcuff" gesture after scoring a goal at Blackpool, which on the surface doesn't seem so terrible until you find out why. Norris made the gesture in a show of solidarity for former Plymouth goalkeeper Luke McCormick, who was sentenced to seven years in prison for the drunk driving deaths of two children. Norris is a former teammate of McCormick's. The gesture has gone over wonderfully in Great Britain as one might imagine.
Amanda Peak, who lost her two sons Arron, 10, and eight-year-old Ben, when McCormick, who was drunk and jet-lagged, fell asleep at the wheel and collided with the Peaks' car on the M6, has called on Ipswich to ban the midfielder. "I'm disgusted," she told the Daily Mirror. "To celebrate a goal like this is disrespectful to me and my husband and my boys. He should be given a ban. Norris is doing this in front of thousands of supporters including children, and sending out the wrong message that we can drink and it is OK to kill someone."
Click to view
What makes the gesture an even more overflowing bowl of wrong is that McCormick apparently got smashed while celebrating all night at Norris' wedding. The Football Association confirmed today that Norris has some extensive 'splainin' to do, and may be suspended. And while they're at it, perhaps they can ask Everton's Tim Cahill, who is McCormick's younger brother,
about this
.
Anger Over 'Handcuff' Celebration
[Sky.com]
Family Of Killed Boys 'Disgusted' Over Norris Goal Celebration
[The Guardian]