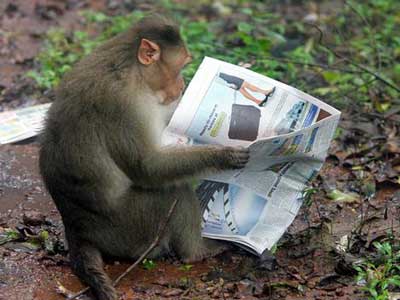 Condolences to those who were watching the NASCAR Sprint Cup race from Phoenix Motor Speedway on Sunday. Just to fill you in, Jimmie Johnson won. It was high time that auto racing had its own Heidi Bowl, and ABC obliged, awkwardly cutting away from the Checker O'Reilly Auto Parts 500 in the Eastern and Central time zones late in the race. And what did racing fans see in its place?
ABC ditched its NASCAR coverage for "America's Funniest Home Videos" with 34 laps left in Sunday's race. That's right, Johnson's seventh win of the season was interrupted by cats running into walls, dancing brides falling and children inflicting unintentional pain on adults. "I knew we were in trouble when I looked at the monitor and saw a monkey scratching its butt," one team member said after Johnson's victory.
OK, most viewers could still catch the end by switching over to ESPN2, so it wasn't that big a debacle. But why the
Auto Interruptus
in the first place? What was so important about this particular episode of America's Funniest Home Videos? It must have included the never-before-seen footage of the guy getting hit in the nuts. Yeah I know, it's all about the TV sponsors. ABC can pull the switch when it wants to; it's in their contract. It's still amusing, though, to abruptly go from the dramatic final laps of a NASCAR race to a matronly woman slipping and falling at a wedding. Meanwhile,
reaction on all this seems to be mixed
.
ABC's Decision To Leave Race Puzzles NASCAR
[USA Today]