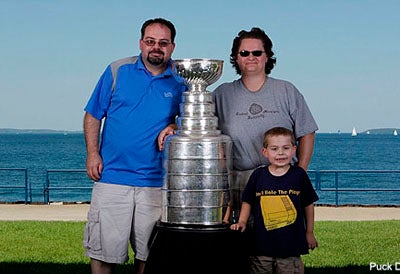 Red Wings fan Rick Finn here decided his team needed a little something extra going into last night's showdown with the Penguins, so he hatched an ingenious plan. He had an opportunity to pose with the Stanley Cup in Traverse City, Mich., on Labor Day, and decided to try and put a hex on Sidney Crosby and the Pens by touching the Cup with his Lions shirt and chanting "Crosby." What could possibly go wrong?
"The Lions' mojo is too strong for anyone to break," Fox said in an email to Puck Daddly. "I knew nothing is good for the Lions, they have bad mojo. Then it struck me: Why not use that mojo against the Red Wings' arch rival? So I chanted 'Crosby' when I touched it. I was angry when I went to finals and had to hear Penguins fans at the Joe — they were actually loud. So that's my revenge."
Anyone familiar with the Lions should be able to guess what happened next: Crosby required only four minutes to record the game's first goal. The Penguins went on
to win 7-6 in overtime
. Note to future Detroit sports fans who attempt to provoke similar outcomes with Lions clothing: Do not tamper with forces you don't understand. You could kill us all.
Staal Fuels Penguins' Rally, 7-6 Overtime Win Over Red Wings
[Pittsburugh Post-Gazette]