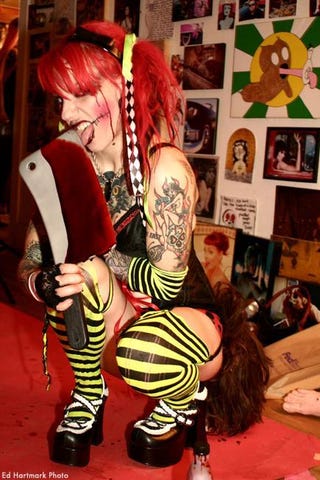 I won't say roller derby's Suzie Homewrecker is an Amazon chick from hell, but I think I just got herpes from visiting her Myspace page. The demur Ms. Homewrecker is one of the founding members of the Arizona Derby Dames, an all-women's amateur roller derby league based in Phoenix, Ariz. I learned about her through the mascot of the Hotrod Honeys of the Texas Rollergirls, an Austin, Texas-based league. Dave Wasser,
whom we mentioned on Monday
, wears an enormous hot dog suit and claims to have fended off the advances of Homewrecker. (Welcome to professional journalism). Email excerpt from Wasser, aka Hotrod Dog:
"Are you kidding??? Chicks grope me in this costume. They all want to get inside my buns. Sometimes I have to fight them off — or at least use the pepper spray. For example, I had to fight off this roller derby girl last week. She kicked my ass!"
He's kidding, I hope. Wiener jokes aside, it will be interesting to see if
the AZDD
catches on and goes mainstream. The league currently holds two bouts per month at the Castle Sports Club in Phoenix, but is moving next year to Arizona Veterans Memorial Coliseum, which is also home to the Arizona Excalibur Women's Hockey league. Eventually they hope to graduate from a flat track to a banked oval. Teams with names such as the Scrappers, the Coffin Draggers and, my favorite, Runaway Brides, feature skaters such as Joan Threat, All The Way Mae and Prima Donna, all of whom give the proceedings a definite WCW-meets
Rocky Horror Picture Show
vibe. Vince McMahon, how have you not swooped in and bought this league?
The Northwest Knockdown
, the Women's Flat Track Derby Association's national tournament, is this weekend in Portland, Ore. Video below. And the
Suzie Homewrecker Myspace page
here.
Exploring The Depths Of "Fan-archy" With Roller Derby Superfans
[Phoenix New Times]