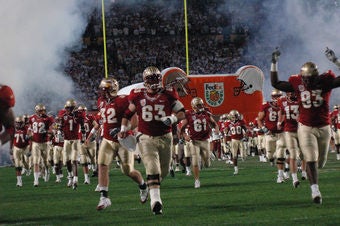 Details are still sketchy at this point, but apparently there was a little brouhaha on the campus of Florida State University yesterday and we don't want to alarm you ... but the football team may have been involved. Campus police say about ten individuals were involved (including at least two women), four people were treated for injuries, and at the moment, no one has been arrested. Beyond that, no one official is saying anything, including Bobby Bowden who wouldn't let players or assistants speak to the media after practice. But if an actual legitimate newspaper can just beg readers to send them information than we can probably just post completely unverified message board postings and consider that our service to you:
"I'm still working on the details but about an hour ago at Union Wednesday which is held every Wednesday about half of the Seminole football team jumped an African American fraternity called the Sigmas while they were "strolling". Some of the Sigmas were sent to the hospital. The football players seemed possessed they were body slamming kids and throwing chairs. It was crazy. Supposedly [freshman linebacker] Nigel Bradham was at a local club here last Thursday called Floyds and one of the Sigmas disrespected his woman. So it finally spilled over today. I knew something had to be up because there's never too many football players at Union Wednesday but they were out today for obvious reasons."
I'd say there's a 65% chance that nothing in that paragraph other than the word "Wednesday" is true. Rivals says it was the Seminoles leading receiver Taiwan Easterling who was initially involved before the rest of the wide receivers came to his aid. Whatever the case, Tallahassee has turned into Act 3 of West Side Story, which is exactly what you want before a big primetime game. We're going to need some shaky YouTube footage of flying chairs to really sort this thing out.
Several FSU football players allegedly involved in campus brawl
[Orlando Sentinel]
FSU Football Players, Frat Members Fight On Campus
[Tampa Tribune]
Seminole players involved in altercation
[Rivals]
We want to know: Did you witness the 'brawl' Wednesday on FSU's campus?
[Tallahassee Democrat]