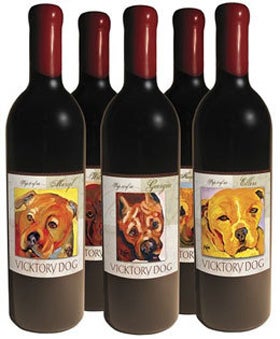 When I think of fine wine, I also think of dogs — who doesn't? Throw in Michael Vick, and you have an amusing little wine with a full-bodied locker room bouquet and just a hint of flea powder. Welcome to Carivintas Winery, a Southern California company which markets Vicktory Dogs Wine; 22 varieties with labels picturing the dogs that were rescued from Vick's Bad Newz Kennels (do not serve with fish). Each label depicts a different dog at the Best Friends Animal Sanctuary in Utah, and the set goes for $672, or $40 a bottle. Each label also has a brief story about the dog. Ten percent of each sale goes to Best Friends.
"Everybody has their favorite and people are buying for different reasons," said Matt Hahn, co-owner of Carivintas Winery. "Some people will drink the wine, some will never open the bottle."
I prefer collie, but if pit bull is all that's available, I guess I have no choice. I hope you know my dinner party is ruined, however.
Some are just fine with it
, though. Also,
Deuce of Davenport
wonders, will these wines be sold at
The Tasting Room
?
Vick Dogs Featured On Wine Labels
[AJC Pets]