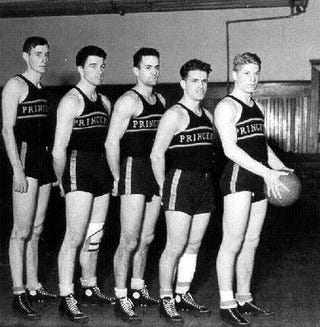 There's nothing more hilarious than these first few weekends of college basketball, when the proven stalwarts of the league get their toes wet and warm up those endorphins by taking on schools that no one outside of a 5-mile radius of the campus have ever heard of before. Stetson? Check. Farleigh Dickinson? Whatever you say. Guilford? Is that even a word? So, since most of last night's action lacked a certain "action", let's fill our word quota with some fun facts about the lesser-known schools!
(2) UCONN 81, Western Carolina 55
ManMonster Hasheem Thabeet went defensive-minded, swatting away five pitiful shots from the opposition and bringing down a career-high 17 rebounds. FUN FACT: Every semester, WCU publishes their own humor magazine named "The Gadfly", which is an anagram for "Glad Hefty", which in turn is the definition of Frank Caliendo.
(6) Pittsburgh 86, Farleigh Dickinson 63
Levance Fields finally came back from his foot issues to put up 15 points and eight assists. FUN FACT: A notable alumnus of Farleigh Dickinson is Stephanie Adams, a 1992
Playboy Playmate
who has spent her post-nude time authoring 17 "metaphysical books", whatever that means.
(8) Texas 68, Stetson 38
A.J. Adams scoffed at the moved-back 3-point line, sinking five from beyond the arch. It was the 18th time in his collegiate career he's made at least five 3-pointers in a game. FUN FACT: Stetson hosts the nation's first and oldest "Model U.S. Senate", which features students playing make believe that they're actual U.S. Senators. But presumably without the "illicit sex with their pages" part of the job.
(17) Marquette 95, Houston Baptist 64
Here's a telling stat to show you just how worthless these early contests are: Marquette won handily despite only going 5-for-22 on 3-pointers. FUN FACT: This fall is the first time Houston Baptist has been on the semester system, choosing to give up their time-honored tradition of handing out grades quarterly and probably angering God in the process.
(20) Davidson 107, Guilford 83
Stephen Curry came one menial steal short from collecting a triple-double, but since he registered a block it seems wrong not to give him one anyone. FUN FACT: Guilford's mascot, The Fighting Quaker, is a walking oxymoron, seeing as the Quakers are traditionally a peaceful people. And some other contests around the league:
Stanford 75, Yale 67
This one's getting blamed on Bush too.
Illinois 66, Eastern Washington 50
Somewhere, awash in a
sea of women who really, really seem into him
, your old editor nods in approval. Oh yeah, and once-proud
Kentucky hilariously lost to Virginia Military 111-103
. Thankfully, the folks at
Storming the Floor
have a nice little writeup about it.
Head that-a-way.