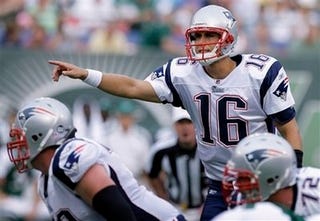 Continuing with
our economic theme today
, the market outlook seems awfully bullish for New England Patriots backup turned starter Matt Cassel. After his big time coming out party on Thursday night, in which Bill Simmons drunkenly compared him to John Elway, Cassel looks to have set himself up for quite a payday this off season. FanHouse's Tom Mantzouranis looks at some of the mediocre QBs who paved the way for Cassel to cash the big check. David Garrard makes how much!??! Matt Schaub, A.J. Feeley, and Derek Anderson: living the dream, especially Feeley with his super cute soccer playing wife, Heather Mitts. These are the guys T-Mantz points to as hope for Matt Cassel's bright financial future. What
kind of numbers is he looking at
?
And, rest assured, if Cassel hits free agency there are going to be a lot of teams interested. The Lions, Jets, 49ers, Vikings, Rams, and Buccaneers will almost assuredly be in the market for a top signal-caller, and there are likely to be a few others that emerge between now and then, as well.

This high demand, paired with a rising salary cap, growing distrust of rookie quarterbacks, lack of other realistic options, and continued disdain for free agent frugality will lead to Cassel getting a deal somewhere in the market of six years and $70 million, with $25 million guaranteed.
Life is good living in Tom Brady's shadow.
Matt Cassel Became a Very Rich Man by Losing to the Jets