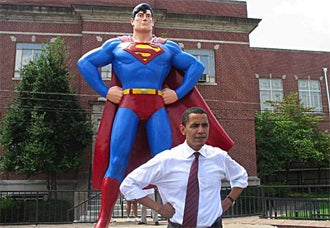 I was really enjoying that four-day stretch where I could leave my TV tuned to sports and not have to hear about Barack Obama. That went down the tubes last night when SportsCenter covered the president-elect's appearance on 60 Minutes , which airs tonight. In his interview with CBS's Steve Croft, Barack reiterated his desire to see college football adopt a playoff system, but also stated that he'd be willing to exert the influence of his new office to put such a system in place.
"If you've got a bunch of teams who play throughout the season, and many of them have one loss or two losses, there's no clear decisive winner. We should be creating a playoff system. "It would add three extra weeks to the season. You could trim back on the regular season. I don't know any serious fan of college football who has disagreed with me on this. So, I'm going to throw my weight around a little bit. I think it's the right thing to do."
For those of you pining for an eight-team playoff in Division I FBS, or those that merely enjoy the federal government penetrating every aspect of your life, this is great news. Without rehashing
my own personal views
, or launching some libertarian diatribe about government, I'd make a simple suggestion to our future leader: You have better things to do. Especially if the last eight years are as bad as you say they've been. Besides, putting this together will make Iraq look like a walk in the park.
Obama eyes college football playoff
[SI.com]