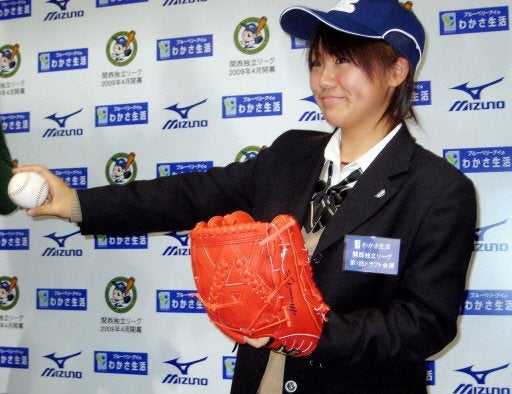 I don't know; the whole thing sounds a little sketchy to me. But let's take it from the top: Eri Yoshida, a 16-year-old schoolgirl, has been drafted by the Kobe 9 Cruise, a new independent Japanese professional league based in Tokyo. It will be the first time that a chick of the female persuasion will play professional ball with the men in Japan. Also, the unfortunate arrangement of nouns and verbs on this site also makes it sound like the Red Sox, Yankees and Tigers (!) are interested in her. Not likely. Now if you would have said Giants or Padres ...
"I never dreamed of getting drafted," Yoshida told reporters Monday, a day after she was selected to play for the Kobe 9 Cruise. "I have only just been picked by the team and have not achieved anything," she said. "I want to play as a pro eventually in a higher league."
Yoshida is 5-foot-5, 114 pounds, and says she wants to follow in the footsteps
of Red Sox knuckleballer Tim Wakefield
, the first time that sentence has been uttered in any language. Of course she reminds me more of Gogo Yubari from
Kill Bil
l.
Schoolgirl Knuckleballer Headed To Japan Pro League
[Yahoo News]