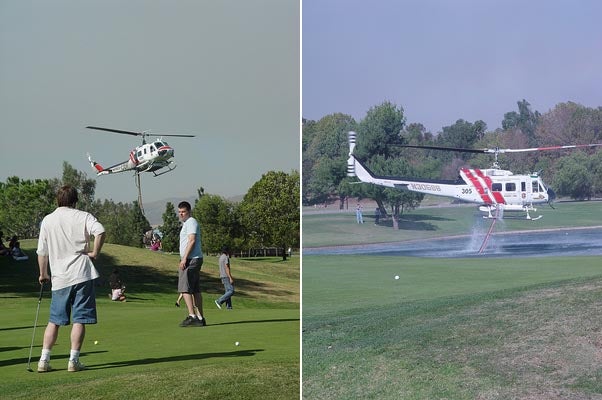 What kind of a penalty is that if the wind from the firefighting helicopter blows your ball into the rough? "Tough luck that part of the fairway being on fire, Chuck. But that's where you hit it, and rules are rules." Natural disasters can be so damned inconvenient sometimes, especially when the sherriff's chopper drains the water hazard. That was the case this weekend as the Triangle Complex fires in southern California continued to rage. A reader reports:
These were taken at Birch Hills Golf Course near my home in Brea, Ca. where brush fires have been raging all weekend. The Orange County Sheriff choppers in the photos were sucking water out of the golf course's decorative "water hazards" and then dumping it on the nearby fire. Golfers on the 16th hole played on (as you can see in the pics) despite the chaos behind them.
Sadly,
this thing hasn't been contained
. Thanks to
David Reeve
, who also took the photos.
More right here
.
Wildfire Rages On
[San Bernardino Sun]