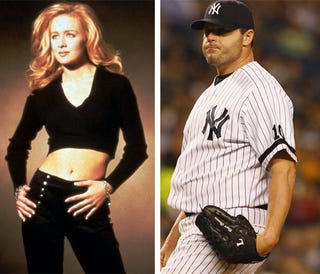 The latest chapter in the saga of Roger "I'm certainly not an unfaithful, fib-telling douche" Clemens and Mindy "In no way am I any kind of a golddigging publicity whore" McCready unfolded on Monday on the TV show
Inside Edition
. For one thing, our aspiring country & western diva says that there was no humpty-hump occurring between the two when she was 15. So put that right out of your head. McCready says that the two met when she was 16, and that a sexual relationship did not develop
until "years later."
"Carrying on a relationship with him is not something I'm proud of," she said, according to a partial transcript released by the show. "Roger Clemens is one of the most wonderful men I've ever known. ... He treated me like a princess." "We never had a meeting in secret. We went on vacations together. We went to Palm Springs. We went to Las Vegas, New York City," McCready told Inside Edition. "I wanted him to do right by me ... and when he wouldn't, I broke it off."
McCready also apologizes to Clemens' wife, Debbie, and says that at one point she wanted to end it all. "I have nothing but remorse and nothing but sympathy for what [Debbie] had to go through with this situation, and she has my utmost apology," she told
Inside Edition
. McCready, 32, got a suspended three-year sentence in 2004 for fraudulently obtaining prescription painkillers.
"There aren't words to describe how painful it's been," she told Inside Edition. "So painful, I haven't wanted to live. ... I've lived recklessly. I've made a lot of mistakes."
Expect these types of interviews to pop up continually until someone gives McCready a major recording contract, or a reality show, or Clemens is involved in a juicier scandal. Of the three, the latter is most likely, I'm guessing.
McCready Interview Digs Deeper Hole For Clemens
[San Francisco Examiner]
Report: McCready Not Proud Of Ties To Clemens
[CBS Sports]