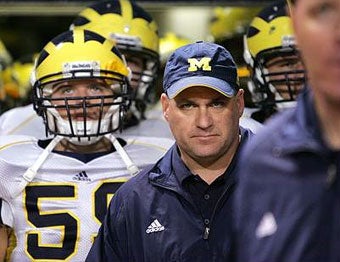 It's safe to say that the Rich Rodriguez Era at Michigan is not going as planned. (If you're a Michigan State or Ohio State fan, however, you're probably thinking that it could not have been planned better.) The Wolverines are in the midst of a historically awful season that has fans and alumni noticeably upset. So with the untackleable Terrelle Pryor and Ohio State looming on Saturday and a ninth loss (and fifth in a row to the Buckeyes) a likely scenario, Rich Rod has one message for his greif-stricken supporters—y'all just need to get over it .
"It's amazing some of the things that people would say [on a message board] or yell at you of a personal nature," Rodriguez said Monday. "You almost want to tell them, 'Get a life.' "There's a whole lot bigger problems. Look at the economy."
He's right. The economy is dreadful in the Great Lakes State right now. That's probably why your fans don't like paying $60 a pop to watch your comically inept offense destroy everything they hold dear. Or that their school had to pay $2.5 million to West Virginia University just to get you out of the contract you bailed on. Or that you're earning another $2.5M to deliver the most losses in school history. (And they have a lot of history.) One fan even has to
sell his allegiance
to pay the rent. The worst knock on Rodriguez has been the perception that he
does not take the Michigan Mystique seriously
. U of M fans care
very
much about their traditions and rituals—almost more than they care about the actual winning and losing—so to tell them that they might lose to Notre Dame, MSU and OSU in the same season and that they should basically just get over it ... that's not helping. Neither are rumors that RB Sam McGuffie—one of the few bright spots this season and a big hope for the future—might be leaving school as part of
a larger player exodus
. The athletic director actually had to step in with a public vote of confidence earlier in the season, but if Ohio State embarrasses them this weekend (they're favored by 19; the largest spread in the history of the rivalry) it's going to be a long winter in Ann Arbor. Or maybe they'll pull off the miracle upset and all will be forgiven? (That would actually help State reach the Rose Bowl, which obviously leaves me conflicted.) Of course, the fact that such an upset would be a miracle, is kind of why everyone is
pissed
.
Rodriguez says some Michigan fans need to get a perspective on life
[ESPN]
U-M's Rich Rodriguez, meet (and beat) Ohio State
[Detroit News]
Sam McGuffie, Others Leaving Team
[M Go Blog]
Fire Rich Rodriguez
[Fire R Rod]
Michigan Fan Auction
[eBay]