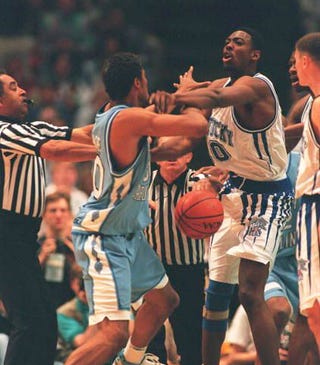 The 24 hours of maddening college basketball is almost at an end, so let's Rosie Ruiz our way to the finish line and reap the celebratory final paces. Tradition University squares off against Heritage State in a game that Tyler Hansbrough is too proud (and hurt) to be a part of, but that doesn't mean ESPN doesn't want you to watch. Dan Shulman, Dick Vitale and Erin Andrews can be seen at 9 p.m. in their entirety in cynical sound bytes once you jump to the limit. * * * * *
Second Half
11:06
— So hey, that's all for tonight, but thanks to the five of you who read everything I typed. Including the following word: clothespins.
11:04
— The most esoteric reference at the end for Vitale was Lionel Ritchie, which was a pretty solid stream of consciousness to get there. Also, he said tonight is why "North Carolina is uno number one." I highly recommend the #1 combo at Uno. Cheese pizza and breadsticks. Mmm.
58


77
11:02
— Yeah, Zeller looks like his hand bent the incorrect way.
10:59
— Tyler Zeller gets fouled rather mightily by Ramon Harris. As Zeller struggles to find the rest of his facial organs, we're reminded that his brothers were good basketball players too. This is the Tinkerbell Theory in that if you talk about a player's dossier enough, he'll get better via audience participation.
10:58
— Somehow. SOMEHOW. Vitale sneaks in a Tim Tebow mention with under three minutes in the game.
10:57
— By the way, Deon Thompson fouled out with 20 points and 8 rebounds.
10:55
— You think I have it bad? Kansas is leading Florida Gulf Coast University 81-39 with a few minutes left in the game. Good thing
that
wasn't on TV.
10:54
— The cameras bravely found Ashley Judd among, somehow, UNC fans. Apparently she made a pact that if Obama won North Carolina, she
would sit in the students section in this game
.
10:50
— Silly foul there by Ed Davis. What kind of lapse in cranial judgment would you call that, gang? Live blog timeout.
51


68
10:47
— Shulman: "Digger has 78 teams in the tournament and you have 12 teams in the top five." Because of that, Shulman among the top three broadcasters I've ever watched.
10:45
— A letter from Mike Krzyzewski to Michael Jordan. When does that go on eBay? Either way, get your paint and stamp MJ's name like you mean it.
10:42
— Not like it's going to happen, but in actual game scoring news, Kentucky is 13 points away from a tie.
10:40
— Vitale gave Obama an "average" rating of basketball ability, probably the most condemning review of hoops skills ever doled out by Dickie V. in the last 20 minutes
10:38
— Still awaiting a mental breakdown. At this point just
seeing
one might convince me to mark it. Hell, hearing Tom Petty's "Breakdown" might elicit me to mark it.
46


64
10:34
— Also, Vitale has great things to say about his co-worker, Dan Shulman, who's one of the best. Everything's a good thing. Even badness is good because it makes good things gooder.
10:33
— Everybody's good with this character. Expect some huge praise for SIU-Edwardsville if this thing goes to overtime.
10:32
— If you didn't notice that, Vitale had three degrees of compliments: 1. Pittsburgh. They're good because they beat: 2. Miami of Ohio. They're good because they played well against 3. UCLA. If he would have mentioned John Wooden, it'd be the rarified four degrees of compliments. Currently HDTV does not support such complexity of laudatory commentary.
10:31
— "Will this be the year" that a non-major school makes it to the Final Four? I guess it's already been handed down from above that George Mason has always been a legendary basketball powerhouse.
10:28
— Derek Jeter doesn't need to be a spokesman for a deodorant. It's not like if he forgets to cover up his sweat smell, he won't have a threesome.
39


55
10:25
— Have two nouns not in the game ever been mentioned more in a 2-hour span? Tyler Hansbrough and VMI are sure getting their audio's worth.
10:23
— Breaking update: I am a horrible person. The black "K" on the uniform is for Bill Keightley, longtime UK equipment manager, who
passed away in March
.
10:20
— I need a timeout to compose myself.
31


45
10:17
— A twist: the Rays WERE mentioned. But it took Dan Shulman, not the Tampa native, to knock the bingo spot down. WE ARE ONE "MENTAL BREAKDOWN" FROM THE FIRST EVER BINGO, PEOPLE.
10:16
— The latest on Hansbrough's injury, here's Erin Andrews. Her first words: "Again, just to reiterate..." Stay tune for the latest same report in ten minutes.
10:15
— Understanding the reference, can UNC's Wayne Ellington still be nicknamed, albeit off-the-cuff, "Duke?" Or is this a Dick Vitale pajama fantasy?
10:13
— Again, in case you didn't know, Kentucky played VMI in their first game. (Spoiler: VMI was the
WINNER!
)
10:12
— Tyler Zeller was called for a foul of Not Being Tyler Hansbrough.
10:09
— Erin Andrews was rather taken aback by Coach Gillispie's "spirited" speech, little of which she can evidently repeat. Here's to hoping the compound swear words were plentiful. A rumor that one of the words was "fuckhammer" would make my evening.
Halftime Entertainment Video
[speechless, twitching, shivering, a bit sleepy]
First Half
9:52
— The first half ended in the exact same minute this bag of Baked Ruffles just became empty. It's a sign.
25


41
9:48
— Wait. Did they just say Dick Vitale's going to broadcast an NBA game? The fuck? Am ... am I dead?
9:46
— Kentucky: 17 turnovers, 21 points. The entire team already has a double-double in the first half.
9:45
— VMI is getting so many mentions, you'd think Mike Krzyzewski was named their new head coach.
9:42
— UNC is clinging to that somethingteen lead as we reach the next media timeout. Media includes liveblogs. This break is taken specifically for me. I'm honored.
21


38
9:41
—
Southwest Baptist beat Utah
, causing Vitale to Google where the school was located.
9:39
— Dickie V. wants college players to stay for three years minimum in college, because he hates parity and wants Kansas, Duke, UNC and UCLA in the Final Four every year.
9:37
— Erin Andrews reports on Roy Williams finding out about three players coming back for another year, and imagining what it'd be like for UNC if they weren't here. God, they'd be, like,
sixth.
Terrifying!
9:35
— And a longer 3-point line. En fuego. Vitale: "look at all those lines!" Yes, there are two. HOW CAN YOU KEEP TRACK OF THAT MANY?
9:33
— Pedroia. Count it.
9:31
— Enjoying the eight-minute timeout break, they are.
15


31
9:30
— Okay, Ed Davis had a crazy slick save out of bounds, that turned into a 3-point bucket. Even I, made of cardiac stone, can appreciate that.
9:27
— Lookit that. Kentucky's only down 11. I say that with a thick streak of optimism that this game won't devolve into what Hansbrough had for lunch Thursday. (Spoiler:
Greek salad!
)
9:26
— Also, Marcus Ginyard is a UNC player who is out with an injury. CUE THE STORIES ABOUT HIM!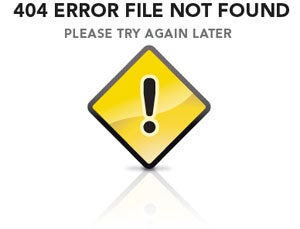 9:23
— Out of the TV timeout, back to talking how awesome it'd be if Tyler Hansbrough wasn't injured. (Spoiler:
very awesome!
)
9:20
— Jodie Meeks' 3-pointer out of the break narrows the lead by 15.8 percent. Sure makes it sound monumental, don't it? They're still down sixteen.
9:20
— Timeout, Kentucky. "I've seen better passing in
Ultimate Basketball
." (Christ, that game was hard.)
6


25
9:19
— HEY STOP STEALING THE BALL AND DUNKING, I CAN'T TYPE THAT FAST.
9:19
— Another Kentucky turnover. I'm going to cut that sentence into my clipboard.
9:17
— Now
Kentucky
gets a steal, and somehow relays it to Patrick "Pat" Patterson for a dunk.
9:16
— I'm having trouble counting the UK turnovers. Afraid it'll put me to sleep.
9:15
— Hey! The Wildcats doubled their points. Good on them.
9:11
— TV timeout. At least it's still within two touchdowns.
2


15
9:10
— UNC finally makes a mistake and blows a fastbreak layup.
9:09
— Gah. "Dancing With The Stars." I knew I was forgetting something. But "dancing with Erin Andrews" certainly qualifies for the hotness square.
9:08
— Deon Thompson forcefully stuffed Roman Harris's attempt at points. I'm going to pretend the blue uniforms are Butler jerseys in the hopes that this game is close.
9:06
— They're already bored with this 8-2 rout that they're talking about when Hansbrough will return. Good thing nothing
else
is happening in the arena tonight except for the healing of muscle tissue.
9:05
— Six points for UNC and it we haven't even played two minutes of gametime yet. UNC and VMI for the national championship?
9:03
— And Kentucky's uniform has the "K" a different color than the rest of the lettering
why?
Because UCLA started it?
9:02
— Sure was nice of Kentucky to make their warmup unis out of discarded golf polo shirts. Recycling!
8:56
— Wuh-oh. Shulman and Vitale showed up with the same haircut. Also, a Vitale editorial: college basketball is very good. Note: the views and opinions expressed by the analysts do not necessarily represent the opinions of ESPN and its family of networks.
8:55
— Correction. Bob Knight just yelled "Yokohama Sea Lions." He is giving it his all.
8:50
— Rece Davis: suit. Hubert Davis: suit. Jay Bilas: suit. Digger Phelps: suit. Bob Knight: comfy green sweater. I know he he has a naturally deadpan personality, but it sure looks like Bob Knight would rather be fishing.

Pre-Game Babble
Yes, that photo up there is
Rasheed Wallace in his early fighting days
. My, how he's grown up since. Will the game be interesting? Who the hell knows. These programs are 1-2 in most wins all time in NCAA history, so for a college game in November, this is as marquee as it gets. The Department of Homeland Security is issuing a Film Noir Montage Code Red for this game. Adolph Rupp's name
might
come up. Anyways, Hansbrough
may be out for the game, but the history of both teams will be the storyline here. Tar Heels blog Carolina March
basically says the same thing
, although ... wait ... "Aye Zigga Zoomba Zoomba Zay?" THAT's your tagline? That's OUR tagline. (Sort of.) No, BGSU
predates 1950
, so I hereby demand half of UNC's national championships be transferred directly into Bowling Green's record books. Thank you in advance.
Projected Starting Lineups
North Carolina G Ty Lawson, offspring of a notable NFL cornerback G Wayne "Menthol" Ellington F Danny "The Patch" Green F Deon "Unfiltered" Thompson C Tyler "Reasonably-Minded T" Zeller Kentucky G Michael "Sky" Porter G Jodie "Delk" Meeks F Patrick "Mashburn" Patterson F Perry "Tayshaun" Stevenson F Ramon "Bowie" Harris
Bingo Card
This will also be my first time live blogging a Dick Vitale-broadcasted event, whom you may remember was the
inspiration for Thought Bingo
. So this one required a ton of randomness and almost prompted another exponential layer of squares, giving us 36.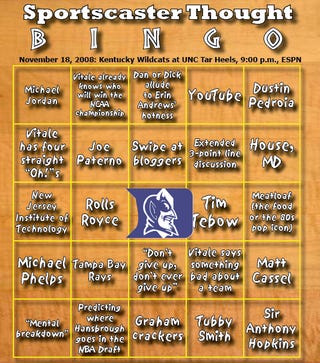 LATE ADDITION: Storming The Floor wanted me to include "Kentucky's neon-blue checkerboard uniforms," which I must say is not only a good idea, but also my first bingo request. So consider this a wild card space. If this one is mentioned, close your eyes and throw a dart at the computer screen. Mark off wherever it lands.