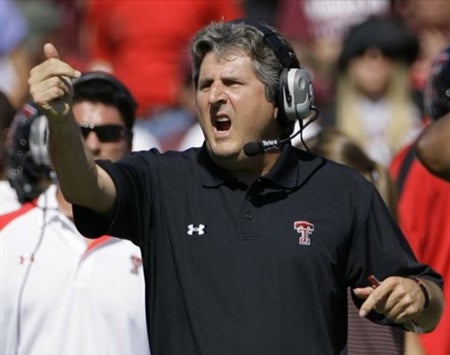 Mike Leach, head coach of Texas Tech and one of the most prolific distributors of free ham college football has ever seen, has visited the UFO exhibits at Roswell, N.M., and declared them "awesome." He is also the master of voodoo card tricks, and has stared down the biggest tornado in U.S. history, all according to him. (Video below). This should all come as comforting news to Red Raiders fans, whose team can clinch its first Big 12 title on Saturday in Norman, Okla. When asked if he had visited the UFO Museum in Roswell, which is about 170 miles from Lubbock, Leach said:
"Yes, it's awesome, and I recommend it. There's a lot of reading that's very interesting, and some of my family got a little impatient with me. But the reading's very interesting."
Leach also tells about the card trick he used on a recruit, which spooked the young man so badly that he ran out of the office. "It's a trick that Barry Switzer once taught me," said Leach, which of course makes perfect sense. No. 2 Texas Tech is 10-0, 6-0, but faces a No. 5 Oklahoma team (9-1, 5-1) that leads the FBS with 51.4 points per game. OK, you've forced me to watch.
Click to view
AP photo by Matt Slocum.
Mike Leach Interview
[NBCSports]