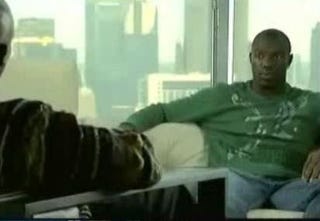 •
An Eagles Shirt? What?
So Dieon Sanders interviewed Terrell Owens recently, and the conversation was shown during Thursday's halftime of the Steelers-Bengals game. Main question: Why is T.O. wearing an Eagles shirt? It's possible that Deion's incisive reporting skills ferreted out the answer, but I'm not counting on it. So I went to the American Eagle Outfitters site,
and found this
. So it's possibly just an innocent misunderstanding, and not a dig at his former team. Um, right. Next question: What's with Deion's sweater? My eyes! Get an eyeful of of these questionable fashion statements in the video below. Oh, and T.O. says he wants the ball more. Another scoop for Deion! •
Browns Want Cowher Power
. They're 4-6, profane emails are flying all over the place and staph infections are running rampant. Who better to pull the Browns out of their current morass than Bill Cowher, who can defeat bacteria with his menacing stare alone? "Per the source, the Browns are willing to give Cowher a contract worth $8 million to $9 million per year." [
Pro Football Talk
] •
All Signs Point To Go
. Brady Quinn was examined by a hand specialist on Thursday, and has been declared fabulous, plus OK to play on Sunday against the Texans. Quinn complained of soreness during Wednesday's practice and was found to have a slightly fractured pinky on his throwing hand. [
Cleveland Plain Dealer
] •
Jerry! Jerry! Jerry! ...
Jerry Jones takes part of the responsibility for Pacman Jones' suspension. "Yes, I do take responsibility for the fact that it was my own security that the issue was part of," Jones said. "Because it was my guy there that created the problem. ... The way that it was supposed to work in my mind, to some degree, we wouldn't have had that problem." [
USA Today
]