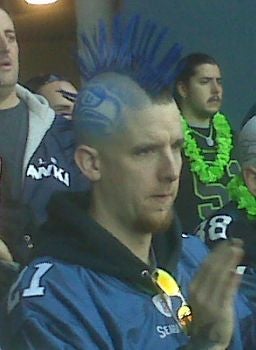 Seattle fans wear their heart on their sleeve and their logo on their head. No wonder Sonics fans were so pissed off. Jim Zorn and Mike Holmgren have been feeling each other out like a Mormon couple on their honeymoon and neither side has looked all that fluid. Clinton Portis has been running wild (85 total yards on 16 touches) and the Skins got a big pass interference call on a long pass over the top to Santana Moss. Jason Campbell followed up with a first down pass to Chris Cooley inside the five yard line and Ladell Betts finished off the 12 play drive with a short touchdown run. Washington leads 7-3 but Seattle is mounting a drive in the half's final two minutes.
Update
: Touchdown Seattle on a screen pass to Maurice "MoMo" Morris. The Skins are down 10-7 heading towards the half. They have the ball in great position with about fifteen seconds left to kick a possible field goal.
• Cardinals 12 - 10 Giants
: Brandon Jacobs is out for the Giants and Derrick Ward has found the endzone in his absence. Tim Hightower has a touchdown for the Buzzsaw and Neil Rackers has booted two field goals. And if you've ever wondered why refs hate it when players signal for possession during a pileup, it's because Justin Tuck just bloodied up the nose of some poor official.
• Falcons 17 - 3 Panthers
: The Falcons are running and throwing all over their NFC South rivals led by stud rookie Matt Ryan's 131 yards. Both Atlanta touchdowns have come on the ground, one a piece for Michael Turner and Harry Douglas.
• Raiders 10 - 3 Broncos
: JaMarcus Russell is a perfect 6/6 for 85 yards In Denver, but the running game isn't providing much support. The same can't be said on the other sideline, although they too are without a touchdown despite moving the ball with ease. Hillis is averageing 4.4 yards per carry and Cutler has spread the ball out to six receivers so far. Johnnie Lee Higgins just returned a punt for a touchdown to give Oakland a lead just before the half. That's it for today's updates, so feel free to follow along with the action in the comments. And just imagine all the re-considering the experts will have to do if the Giants and Titans lose on the same day! It's as if these teams are actually susceptible to loss when facing a tough matchup. Who knew?! But before I go, a
word from Randy Moss on his opponent's lack of respect
...
Click to view
Yeah...you should probably just shut up and enjoy the win. *Thanks to ShareBro Alex for the image.