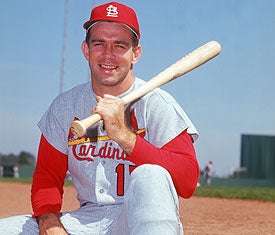 No matter what your opinion is about America's most prominent baseball explainer, you have to feel for Tim McCarver a little bit after hearing this story. He's suing the brokerage house Morgan Keegan & Co, because even though McCarver told them to invest his money in safe, low-risk ventures, they (like everyone else on Wall Street) spent it all on crappy debt investments and lost about one million of his dollars .
"He was told his investments - made with money he was setting aside for his children and retirement - were tantamount to buying CDs and [safe] bonds," [lawyer Dale] Ledbetter said. "Tim was very conservative with his money because he grew up not having any," Ledbetter told The Post. "His dad was a policeman in Memphis and I knew his dad. Tim didn't earn much in his early career playing baseball."
Because the stock market is no better than organized gambling, it's unlikely he'll see much of that money again, but at least he wasn't completely cleaned out. (Maybe he should give
Lenny Dykstra
a call?) The silver lining in all this is that McCarver is nowhere close to retirement now, so you can expect to see him sitting alongside the animatronic Joe Buck machine at the World Series for many, many, many, many, many years to come.
Tim McCarver: Add Him to the CDO Victim List
[In Paulson We Trust]
MCCARVER: I LOST $1M BECAUSE OF MY BROKER'S ERROR
[NY Post]