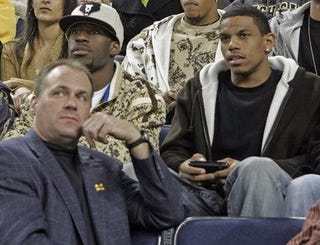 Yesterday I landed in Detroit for Thanksgiving. Our first stop upon arriving was an Italian restaurant where my wife's grandmother was celebrating her 80th birthday. I'm standing at the bar watching the the Titans-Jets game on the television and occasionally a sports fan from Michigan wonders by to see what's on the television. Inevitably we'd end up in conversation. If you've ever wondered whether a city and state's teams serve as a reflection of the surrounding economic struggles, come to Michigan. Every dropped pass, every failed fourth down, every mistake is a further sign that the world around Michiganders has come undone. Ask a Michigander which part of the state they're from, they'll extend their hand in front of their face, and instead of pointing to the part of the state on their palm, they slowly extend their middle finger in your direction. These are the questions that the first five fans asked me during the second half of the Titans game: 1." Did they block the Lions game out again?" (I say I have no idea that I'm from Nashville and just landed in Michigan.) "Oh well, it doesn't matter. Fuck the Lions. I'd rather watch whoever else is playing anyway." 2." The Lions are up 17-0? Damn. Wonder how long it will take them to lose that lead?" 3. "Do you care if we change the channel for just a sec. to see what they're saying about the auto bailout?" 4. "You're from Tennessee? I wish Rodriguez would move to Tennessee and die." 5. "Did you know Ford had to buy the Thanksgiving game tickets this year because no one was buying them? They're selling them to employees for $30 each. I heard no one is buying them even though that's less than half what they actually cost. Boy, when I was a kid that Thanksgiving game was the best." So be thankful you aren't a sports fan from Michigan. And if you are a sports fan from Michigan? Yeah, sorry, you're screwed. On to the college football round-up.
Oklahoma toasted Texas Tech.
Just one day after I announced I had a crush on Mike Leach
. This game was kind of like going for a piss, opening the bathroom door, and seeing your crush ski-poling two random guys she met at a fraternity party. Even still, in the great "Will it be, Leach, Brian Kelly, or Lane Kiffin as the next UT coach-debate?", I'm with Leach. Also, Brent Musberger attempting to pronounce Beyonce's name during the promos for the American Music Awards should put an end to the old-announcers attempt to read promos business. Just put it on the screen. Also, was I the only person who thought that while he discussed the Beyonce mispronunciation Herbstreit was thinking, "I could bang Beyonce if I wanted to." It was the subtext of the entire conversation. Finally, granted Texas Tech got destroyed, but all they need is an Oklahoma loss on the road at Oklahoma State and they win the tiebreak over Texas head to the Big 12 Title Game. Win that and wouldn't it be hard to put Texas in above them in the BCS Title Game?
Washington State wins in overtime over Washington.
The only thing better than a game between two teams who have combined for one win? An overtime game that ends with one team missing a short field goal and the other team making one.
Penn State contributed to the continued collapse of Michigan's self-esteem by beating the only decent team in the state.
We've spent enough time on this. Congrats to Penn State on their first Rose Bowl in 14 years. Condolences on Joe Pa announcing he's returning for a 44th season. Meanwhile, Michigan was destroyed by Ohio State to put a merciful end to their season. The Terrelle Pryor Rich Rod picture will never die.
Charlie Weis is a genius!
Did anyone else see the snowballs that someone threw right after the missed field goal at the end of Notre Dame's loss to Syracuse? Was this supposed to be a celebratory snowball? Because somehow that snowball bursting open when it landed on the field was the perfect metaphor for the Weis era at Notre Dame. Well, okay, not as good of a metaphor as Weis getting wrecked on the sideline against Michigan, but close. Also, how many more years does NBC Sports have to pretend they still have a sports department by showing Notre Dame games? Remember back when NBC Sports had the NBA and the NFL? Doesn't that seem like it never happened now? I know NBC has Sunday Night Football, but there's something about their sports coverage that seems wistful for 1988. Even down to the dark, Seinfeld-esque color schemes in their telecasts. Not as wistful as Notre Dame fans are for 1988 or in believing that Urban Meyer will leave Florida to come be their coach, but close.
Tennessee beat Vanderbilt despite passing for only 22 yards
. We didn't complete a pass in the entire first half. Four different people played quarterback for Tennessee. Only one of them completed a pass (unless you count Jonathan Crompton's interception on his only pass attempt). There's no existing film from UT's games back in the 1930's. Now, at least I have an idea what the offense would have looked like in person.
Oregon State is a win over Oregon away from their first Rose Bowl since 1965.
Lucky for the Rose Bowl that game would be a rematch. This is perfect. Anyone who favors a college football playoff should root for the Rose Bowl to get screwed every year. The bastards think their single game is more important than the rest of college football. Enjoy.
Maryland controlled their own destiny in the and got waxed by Florida State; Miami had the Atlantic Division wrapped up and got destroyed as well.
Now I think Boston College controls their own fate. So if they beat Maryland, they're in. But if they lose Florida State is in. So at least there's some finality there. Same with Virginia Tech, win and they're in. Swell, a rematch between two teams that were better last year. To see who gets waxed by another team in the BCS.
Cincinnati and Brian Kelly are headed to the BCS provided they can get the win over Syracuse.
Did anyone else think Erin Andrews was slamming the Cincinnati fans every time she did a sideline report. At least twice she pointed out that the fans weren't excited enough. I think this was her revenge for being sent to a night game in Cincinnati in November.
Utah beat BYU and is now 12-0.
They're up to number 6 in the BCS standings. What's the route to the BCS Title Game for Utah? I'll tell you. Alabama loses to Auburn, Florida loses to Florida State then beats Alabama in the SEC Title Game. Oklahoma loses to Oklahoma State, Texas Tech loses to Baylor, and Texas loses to Missouri in the Big 12 Title Game. Then, I think, Utah would play USC for the BCS Championship. See, Ute fans, the BCS is an infallible and fair system. You've got a shot too!