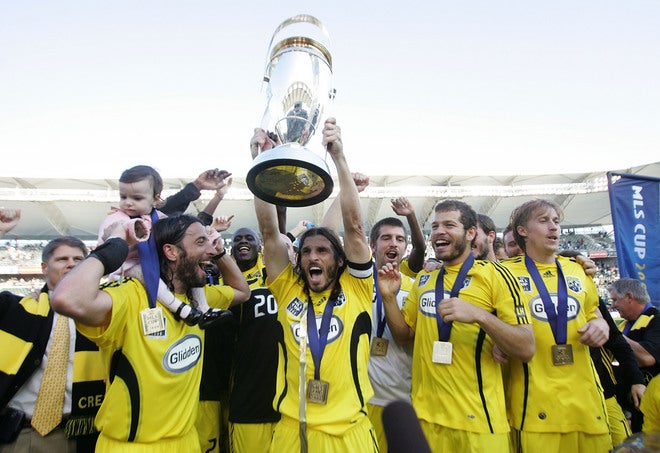 Michael Bertin writes regularly about soccer for Deadspin. Frankie Hejduk has been in MLS for nine years. He's done five seasons in Europe four of which were with Bayern Levekusen, including the infamous 1999-2000 campaign when the side needed only a draw against tiny Unterhaching on the last day of the season to win the Bundesliga but lost 2-0 to hand the title to Bayern Munich on goal difference. In 1998, he was the only American on the pitch who played like he gave a shit in a 2-1 World Cup loss to Iran, probably the low-point of US Soccer in recent history. And he was again named to the US World Cup squads in 2002 and 2006, although an injury saw him replaced for the latter.During all that time he's never really won anything of consequence, save maybe for the Gold Cup. So, Sunday was Hejduk's Jerome Bettis moment as a club player—Hey, Frankie's from Souther California, that's where our game is being played—when the Columbus Crew beat the New York Red Bulls 3-1 in MLS Cup. Oh yeah, yesterday was MLS Cup . I'm sure many of you missed it as it was on opposite of the Raiders—I can't believe I started the Denver defense—but Hejduk even scored the Crew's final goal on a beauty feed from league and finals MVP Guillermo Barros Schelotto in the 82nd minute to put a stake in the Red Bulls. Even better, as the team's captain, Hejduk gets presented with the trophy. Pretty sweet for Sunday. So during the obligatorily overwrought postgame presentation MLS commissioner Don Garber stands on the stage and says, "And now to accept the trophy it's, of course, your captain Guillermo Barros Schelotto." Okay, that's not even ordinary wrong, but is compounded by the dropping in of an "of course" like it was the most obvious thing in the world. To his credit, ABC's Rob Stone immediately, and somewhat casually interjected, "Or Frankie Hejduk," to make it a little less awkward. But dude, you're the commissioner. You have one responsibility here. Write it on your fucking hand ahead of time if you have to. "Yellow team: Frankie Hey-dook. White team: Wan Pablo An-hell." If you're a particularly sweaty person, then just look for the guy sporting the captain's arm band. It's like they designed it so you can't fuck it up. It'd be fun to pile on Garber. And pretty easy, too. This is the second (of two) poorly executed trophy presentation he's had this year. There was a contentious spat between the league and players prior to the SuperLiga final when it became known how much of the $1 million in prize money would be going to the players (specifically, very little). After New England beat Houston in a shootout, Revs captain Steve Ralston couldn't get the trophy and get away from Garber fast enough. But Garber's not alone in fucking up. This wire report of yesterday's match also incorrectly identifies Schelotto the Crew capitán (third paragraph). And the pic above was pilfered from Yahoo (oops, Yahoo!) where it was supplied with the following cutline:
CARSON, CA - NOVEMBER 23: Gino Padula #4 of the Columbus Crew hoists the MLS Cup after defeating the New York Red Bulls at the Home Depot Center during the 2008 MLS Cup on November 23, 2008 in Carson, California.
I know it's pretty easy to confuse an infant human being with an enormous shiny metal cup-shaped trophy—happens all the time—but Padula is the one with the baby on his shoulders. It might seem a little nit-picky, because it is; but a league struggling for respect could do without small embarrassments like this at its marquee event. It's a shame, too, because the match was totally watchable. Both teams created plenty of chances, the outcome was still in doubt until about the 80th minute, and it was a showcase for Schelotto—assisted on all three Crew goals—who doesn't get the exposure he deserves because he plays in Columbus, not to mention MLS. Yeah, it's still a second rate league, but one where the quality of play is about as good as it can be when teams are limited by a $2.3M salary cap (compare to about $115M and $55M for the NFL and the NBA respectively). It's an up-sloping grade as it is, and for supporters of MLS—of which I am one—it would be just a little easier to make the effort if the commish seemed like he cared enough to know to whom to give his league's trophy. It's not like the guy hasn't been around.
Crew Beats Red Bulls 3-1 In MLS Cup
Just Something To Keep In Mind When Things Do Go Wrong
[Unprofessional Foul]