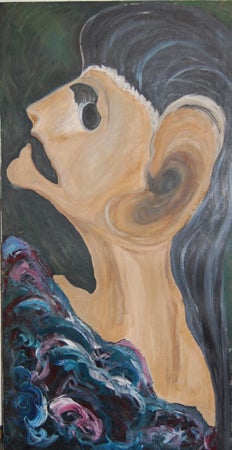 According to Leigh Montville's book "Ted Williams: The Biography of an American Hero," Williams was a distant father, who missed the births of son John Henry and daughter Claudia, the former for a fishing trip. His non-parenting of course caused no repercussions, as is seen in adult Claudia's happy, whimsical painting to the left. Yeesh. On Sunday some of Claudia's art, and many Ted Williams mementos, went up for sale in an auction put on by Williams' third wife, Dolores Wetach Williams. Fortunately, the Boston Herald's
Darren Garnick was on the scene
:
Hello Deadspin. You missed a golden opportunity yesterday to snag a certified Ted Williams-slaughtered beast and some priceless Claudia Williams artwork for the holidays. I bought my Claudia painting for 10 bucks. Since my wife won't let me display "Portrait of a Woman in Agony" in the baby's room, I'm donating it to a museum and would appreciate your vote on where I should deliver it.
Sadly, most of Claudia's 20
oil paintings and sketches were unsold
, and her father's hunting trophies went for less than expected. Red Sox Nation just doesn't go for this sort of memorabilia, which I could have predicted, seeing what a tough time they had
unloading Big Papi's bed
.
Slaughtered By The Splendid Splinter: Why Did Ted Williams' Hunting Trophies Go So Cheap?
[Boston Herald]