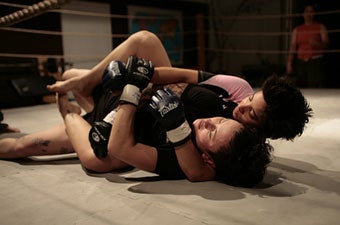 In my old job, it was sort of an unwritten rule that moment you or your work enters the zeitgeist, it takes about 5.3 seconds for a porn company to make a movie about it. So fans of female mixed martial arts should be very pleased to know that their favorite sport is now the setting for a hardcore lesbian porn film . "Champion" is the story of female martial artists who fight and love and fight some more and then just get buck wild all over each other:
Jessie Easton (Syd Blakovich) is a hotshot martial artist in the fight of her life… and for her life. While training for the fight that will make or break her career, she is also haunted by her relationship with her ex-girlfriend (Jiz Lee) and confronted with her attraction to Violet Vahn… her opponent. And her nemesis, Bobby Malone, is demanding that she throw the fight, or else. Jessie never loses, but this time, what does winning actually mean?
Keep in mind, these are real lesbians—not the fake porn lesbians you're probably used to. The movie even has real cage-fighters in it, so all the action (in and out of the ring) is
extremely
authentic. The company behind it, Pink and White Productions, is one of the few that makes movies marketed directly to women who love women. (You know, with plot and stuff.) You can head over to Fleshbot if you want to see the full-on hardcore trailer, but just so you're prepared, it's pretty raw stuff. But if bloody and bruised cauliflower ear drives you wild, surely you tough guys can handle some girl-on-girl action, right?
MMA Lesbian Fighters, don't worry its art house porn
[Watch Kalib Run]
:: exclusive: Champion by Pink and White Productions
[Tiny Nibbles, NSFW]
One Champion To Sex Them All
[Fleshbot, Not At All SFW]