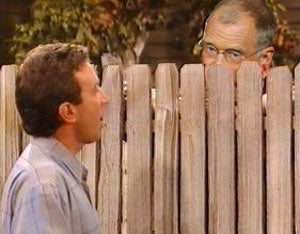 Please accept the harmonious balance of David Letterman and Tim Allen's alma maters, respectively, to infiltrate your Tuesday night plans. The undefeated Ball State Cardinals welcome the 9-2 WMU Broncos, and the winner is in the MAC Championship game. Fun fact: It's not illegal to shout "jump" in a crowded live blog. * * * * *
Fourth Quarter
10:13
— Rebelling against the PA announcer was simply more fun. Ball State is 12-0 and will play Buffalo in Ford Field. WMU is 9-3 and the irony is they'll probably get a January bowl game while the Cardinals won't. The two lesser MAC tie-in bowls, the International and the GMAC, are both played in 2009 for some unknown reason, while it's probably going to be Ball State in the Motor City bowl against a shitty Big Ten team. Yay! All right, enough MAC regular season live blogging for this year. Thanks for putting up with the itch I just had to scratch on this Tuesday night.
10:12
— Hugs and hearty high-fives all around on the Cardinals sideline. The PA announcer doesn't want anyone to rush the field. And I don't blame him. In a state where there's plenty of open spaces, why commune on
this
one?
10:09
— Not wanting to risk anything with 1:26 left in the game and give BSU great field position, Western punts the ball away.
10:07
— Nice of WMU to put the backup quarterback in, Drew Burdi, so
he
can be the resident Matt Stairs and get his ass hammered by guys.
10:06
— There's the most salient thing Bentley has said all night. Let's see Ball State and Boise State play each other, since it looks like neither will get a BCS crack.
10:04
— MiQuale has now rushed for more TDs than any other Ball State running back in a single season. The previous record was held by ... uh ... someone?
9:59
— Either every Directional Michigan linebacker has opposable thumbs, or MiQuale Lewis is just that good at eluding tackles. He escapes a sure wrap-up a few yards away of the goalline then skitters around more defenders for six points. This game's gotta be over by now.
22


45
9:56
— Dante Lewis. Not Dante Love. Dante Lewis is probably a human being, but he's not the one you were talking about, Ray Bentley.
9:55
— Did ... did Nate Davis just run one-third the field down the sidelines? Did MiQuale Lewis steal his jersey and put on really tall shoes? Hot damn, he's a good quarterback.
9:52
— While the nation* awaits to see if Darius Hill caught the pass, I saw Hill talking and joking with a WMU defender. This is a huge game for both teams, and one team is certainly in better spirits than the other. How can they joke with each other, or at least be cordial on the field between plays? This is why I could never be a professional athlete, aside from the obvious reasons. I don't even talk to my friends and family members if I'm playing Monopoly and have most of my properties mortgaged.
* - Muncie
9:43
— West scampers in for six, which is magically converted into eight points on a successful pass from Hiller to Nunez. WMU is back in this assuming Nate Davis does his best Chris Rix impression for the last 11 minutes.
22


38
9:41
— Brandon West's run sets up a 1st and goal, and for bonus difficulty, they'll take a false start penalty. For added super double whopper difficulty, they'll add an illegal formation penalty.
9:40
— See below, replace everything with "Simmons gets shellacked by Bryant Haines and somehow keeps all his teeth."
9:38
— See below, replace "Hiller to Simmons" with "Brandon West runs."
9:37
— See below, replace "3rd" with "1st."
9:37
— Hiller to Simmons for, yep, a 3rd and 10 conversion.
9:34
— WMU needs three touchdowns, complete with the 2-point conversion premium TrueCoat™ that they put on at the factory, to tie. But if nothing else Tim Hiller and Jamarko Simmons can get their stats back up to where they should be.
9:30
— Right, like Ozzy's texts are that much clearer than his speech.
Third Quarter
9:26
— And ... punt. ESPN shows the results of their latest poll: "Should Utah be considered for the BCS National Championship game?" All but one state said "No." Guess.
9:23
— Schneider Julien is running around there with two last names, while so many first-name-heavy humans are starved for a surname. His own teammate Caleb Clark, for example, would LOVE to make a trade with Julien, who just danced around tackles for a first down.
9:21
— They're really going to let Tim Hiller play quarterback, aren't they? What bet did he lose?
9:17
— Or that. Hiller throws an INT for TD to Ball State cornerback Trey Lewis. Youch.
14


38
9:16
— Really, though. Tim Hiller is good at football. Don't let the ball slipping out of his hand a microcosm of the oeuvre of his total work.
9:15
— Elsewhere in the MAC: Northern Illinois trails Navy 16-0. Woof. Total passing plays by Navy: one.
9:13
— How meritocratic of that TomTom commercial: "$100 doesn't go as far as it used to." I know! Who do you have to blow to get a decent limo driver these days?
9:10
— Davis pumps up the crowd (or does non-jumping jumping jacks. It's hard to tell from this vantage) then feeds it to 3'4" MiQuale Lewis for a touchdown and a commanding lead.
14


31
9:09
— Oh, and Darius Hill is good too. First and goal.
9:07
— Briggs Orsbon brings in a big 3rd and 10 catch. Orsbon sounds like a corporation that did a lot of mysterious things in the 1950s to make white suburban life easier.
9:06
— Ball State has a 32-year-old U.S. Marine on their team. Brandon Crawford gets up at 4:30 a.m. every morning. He's a junior. He probably wakes up to tuck in his teammates goodnight at 4:30 a.m.
9:03
— Tim HIller. I haven't mention the other quarterback in this game yet. But there he is, falling down as he hands off to Winchester to convert a 3rd and short. Hiller follows that up by throwing a deep ball that bounces off a Cardinal defender, then loses 13 yards on a sack. I'm pretty sure he's not nearly as bad as the last progression of plays make him out to be.
9:01
— Probably not the best idea inside the 10-yard line to get a false start.
8:57
— Well, he won't be asking Briggs Orsbon to the HMP. His speeding missile of a throw wicks off his raised hands and the Cardinals have to punt. Nice kick, though, as it lands on the 3-yard line.
8:55
— MiQUALE MAN puts about 30 yards of field ahead of him in his front pocket. Also, Nate Davis throws a downfield block. The four-year man crush I've had on Nate Davis is finally paying off. I just hope he remembers me when he's looking for a date to the Heterosexual Man Prom.
8:53
— Aaron Winchester is good, but not "continuing the drive past a few first downs" good. Punt.
8:49
— M"kay, WMU. Don't make this game a repeat of last night's Packers-Saints game. Let's get a 4-OT duel underway. I don't ask for much.
Halftime Entertainment Video
Joe Montana, Buster Douglas and Pat Riley can agree about how many bits a video game console system should have. Eight isn't enough!
Second Quarter
8:27
— It's a video game-style offensive push with 23 seconds left. ...wait, they just run the ball out and decide it's coo' to have a 10-point deficit. End of half.
8:24
— Scrambled eggs all over my face. What is a Bronco to do? Nate Davis runs six yards into the endzone. "Nate Davis does what Western Michigan's buses couldn't do, and that's get through traffic." Somewhere, a Kalamazoo-area charter bus driver throws his bottle of Miller Lite at the TV.
14


24
8:22
— Not a great sign for WMU's defense when the tight end gets behind the secondary. Darius HIll receives Davis's throw and drags a defender to the 5-yard line.
8:19
— Ball State put their offense back on the field rather quickly. Did they go out of turn? Davis scrambles out of bounds and the Cardinals have 42 yards and less than 90 seconds in the half.
8:16
— And yes, there's mention of the double-overtime win Buffalo had over Bowling Green on Friday night. They failed to mention the BGSU coach
mad at his own fanbase
for being "pitiful" for not freezing their asses off on a Friday night to see a home loss. Yes, damn their fans!
8:14
— Yeah, Letterman should have been the free space.
8:12
— Perhaps it was not a good idea to coin the word "Nuggnut" in a McDonald's campaign. Especially if you leave out former innuendo-laden hockey goalie Ron Tugnutt.
8:10
— A team can only convert so many 3rd and teens before they bring out the kickin' game. Ian McGarvey converts the field goal to give his team a 3-point McLead.
14


17
8:08
— Nate Davis runs for a first down and a lot of bonus yards. But WILL HE FLOAT?
8:06
— It's Muncie's answer to Wes Welker. Briggs Orsbon dives and catches the 3rd and long pass.
8:04
— BJ Hill might've had the most acrobatic and impressive kickoff return in college football this year that only wound up putting the ball on the 30-yard line.
8:00
— Coffee magnate Juan Nunez scores a touchdown on the infield fly rule, and hey, maybe this
will
be a close game after all.
14


14
7:59
— Yes, Jamarko Simmons made a great one-on-one play to set up first and goal ... but what kind of star WR number is 27?
7:52
— WMU's "two quarterback" formation winds up with other-QB Drew Burdi running the ball for 9 yards and one under par.
7:50
— BSU begins with a punt, and Western returner E.J. Biggers loses oodles of yards by stepping outta bounds accidentally. Heh. "Biggers."
7:47
— Oh, look, the commercial where the guy sneak-pulls a Heineken out of the wrapping paper. How often can we re-gift this ad?
First Quarter
7:45
— The chirpin' Cardinals, trying to bring the lead back to 14, instead let a WMU defender fling Cory Sykes down to the ground for a big loss.
7:42
— Hiller laterals it to backup QB Drew Burdi, who lobs it to Schneider Julien.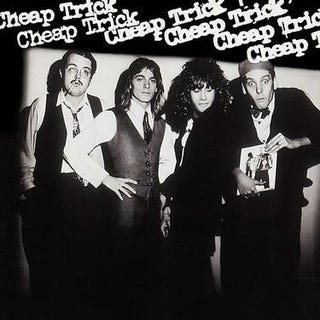 Also, please punch a hole through "trickeration." Twice, technically.
7


14
7:38
— Well, that's modestly hopeful. Brandon West returns the kickoff to the 40something line, but unlike most other fortysomething results, he will not have a mid-life crisis and try to take up surfing.
7:34
— And good thing they kept the ball, because Davis chucks it to Louis Johnson for about a 40-yard touchdown reception. Bentley: Johnson "runs unmolested down the field." Ah, schoolboy memories.
0


14
7:33
— Ball State really
is
the new Toledo. Brady Hoke lets his team run the ball on 4th and 1, and they convert.
7:31
— Much like last week, Sean Baker enjoys intercepting directional Michigan quarterbacks. Hiller forced it and Ball State takes over at midfield.
7:28
— Many ESPN commenters are cheering for Ball State and Western Michigan. Some misunderstood the question and are rooting for Alabama or Auburn.
7:23
— MiQUALE! MAN!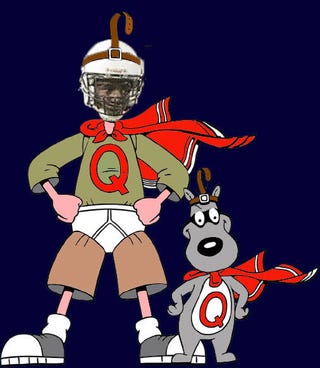 0


7
7:22
— WMU still refuses to guard #81, Johnson, in the secondary. Because that's just what they'd be expecting them to do.
7:20
— Davis to Louis Johnson. I'm sensing a theme. "Davis should register his arm as a lethal weapon." Haven't they made enough of those films?
7:17
— Footage of Western Michigan buses getting to the stadium 40 minutes late, because of accidents on I-69. You never want to have an accident on 69.
7:15
—
QBs on display
my foot. These punters ROCK!
7:13
— There's something remarkably unsettling with the name "Trey Buice." Is that a Gaelic greeting?
7:11
— Nice run by the not-at-all-pretentious-sounding name Aaron Winchester for 19 yards.
7:09
— Not enough Quale-ness for another first down, and WMU will receive the punt and set up the football.
7:07
— So, actual game updates. MiQuale Lewis catches Nate Davis's screen pass and makes some Quale-like moves for the first down. Not to be confused with Quayle-like moves, where he catches a screen passes and puts "E"s on words that don't need them.
7:06
— Also, any comments you leave
on ESPN's game thread
might make it to the TV screen. Remember. "Gaping hole."
7:03
— Ooh, it's Interactive Tuesday! you can write comments to ESPN and put them on the scrolling marquee at the top. Your goal for the day: get the phrase "gaping hole" into a published comment. "Call 1-800-269-0213 to voice your opinion," it says. Please do.

Pre-Game Babble
Even though last night's Saints win over Green Bay had more scores than an Abraham Lincoln speech, it's getting to the point of the year in which prime-time-scheduled football is not nearly as interesting as mid-majors duking it on on a Tuesday night. And this one actually means something, at least in the fishbowl of a world that is the Mid-American Conference. The winner of this game will play in the MAC Championship game against — hold your laughter — the University at Buffalo. The game will be in Ford Field in a valiant attempt to hold a meaningful game there. Both of these teams are bowl bound, although in all fairness they're also good enough to make the playoffs in the NBA Eastern Conference.
Record In Deadspin Live Blogs
Ball State: 1-0 Western Michigan: It's amazing, after all their tradition and glory, that they haven't been in one yet.
Bingo Card
Today's digitally-mastered bingo card will not be seen tonight, for numerous technical reasons, many which involve Adobe InDesign crashing every time I open it. So as part of last week's Green Week, I have wasted a piece of looseleaf on tonight: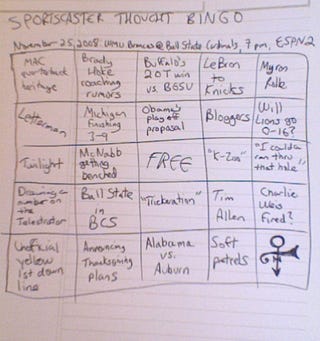 NOTE: If you have trouble reading any of them, don't worry. We're probably not going to make a bingo tonight anyway.