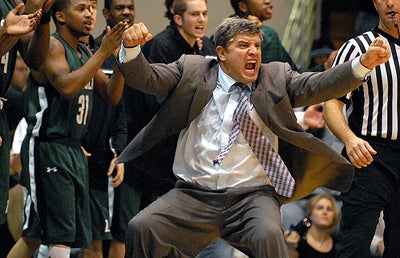 In our latest edition of Coaching Tactics For The Comically Insane, we present Loyola. Md. coach Jimmy Patsos, who had a foolproof way to defend Davidson's Stephen Curry on Tuesday. Patsos rolled out the triangle-and-two, and with devastating effect: Curry was held scoreless. One problem, though. Patsos' team lost by 30. Patsos kept two men on Curry for the entire game, and Davidson of course countered by simply putting Curry down in a corner of the floor, and letting their other players take on Loyola 4-on-3. Davidson on the power play! Final: Davidson 78, Loyola 48. Greyhound fans were not amused.
"We had to play against an NBA player tonight," Patsos explained. "Anybody else ever hold him scoreless? I'm a history major. They're going to remember that we held him scoreless or we lost by 30? I know the fans are mad at me, but I had to roll the dice as far as a coach goes. I'm not some rookie coach." "Every dead ball I asked them how long they were going to do this," Curry said he asked his shadowing defenders. "They really didn't say anything. They weren't very conversational about it."
Patsos took over a team that went 1-27 in 2004 and has led them to two straight third-place finished in the MAAC, and a school-record 19 wins last season. He earned his degree in histrionics at Maryland, where he was an assistant to the easily-agitated Gary Williams for 13 seasons. Patsos got a contract extension in July, and job security can do strange things to your mind, evidently. And since Patsos is a history major, he of course knows what we all took from the Battle of the Little Bighorn; that the triangle-and-two defense that Custer employed on Crazy Horse kept him completely without a scalp.
Curry Gets 0, Davidson Routs Loyola (Md.) 78-48
[Yahoo Sports]
The Ballad Of Jimmy Patsos
[Connors Corner]