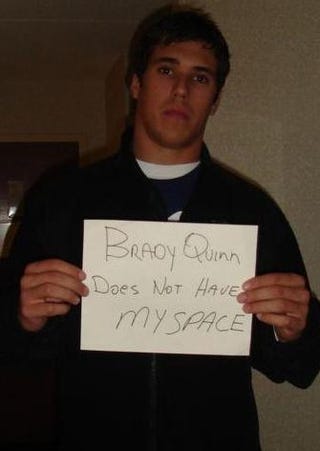 The Cleveland Browns season just became even more meaningless, thanks to the anonymously sourced- news that Brady Quinn, former starting handsome ball chucker,
is most likely out for the season
. Quinn attempted to play last Sunday with that fractured index finger, but apparently did more damage to it by attempting such a heroic, no-Romo feat. Quinn ended up damaging a tendon in the finger which may require surgery, which he'll make decide some time today, according to most of the reports.
Horse Balls
, yer back in.
Brady Quinn out for the remainder of the season
[Cleveland Plain Dealer]
Broken finger to end season for Quinn
[ESPN]
Quinn Done for the rest of the season
[Browns Gab]