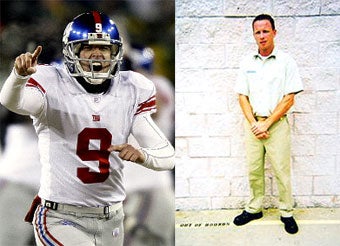 Question: Do you know who Lawrence Tynes is without me having to explain that he's the kicker for the New York Giants? Do you think President Bush knows? He did single out Tynes during the Giants post-Super Bowl White House visit, because it was his overtime field goal against Green Bay that sent the G-Men to the big game. Now Tynes is hoping that tiny bit of presidential recognition might be enough to secure a pardon for his drug-trafficking brother . Notice I said "trafficking" not "dealing." Mark Tynes is currently in federal prison serving a 27-year sentence for being the "kingpin of a syndicate that transported 3,600 pounds of marijuana between Texas and Florida." The brothers fully admit that he was guilty, but think the sentence was a little harsh. But President Bush loves sports and if David Tyree can hold on to that football, anything is possible right?
"This President has virtually ignored this power," said Prof. Dan Kobil, a pardon process expert at Capital University Law School in Columbus. "He's by far the stingiest pardoner." Second - and more problematic - is Mark Tynes' criminal history. He was saddled with a prior felony drug charge before his 2004 conviction ... [He] refused to cooperate with prosecutors - and his sentence was extended from 151 months to 324 months over allegations of witness intimidation.
Oh, yeah ... that is bad. If Tynes had played for the Rangers maybe it'd be a different story, but nobody hates the Patriots that much.
Giants kicker hopes to use fame to shorten drug-dealing sibling's jail term
[NY Daily News]