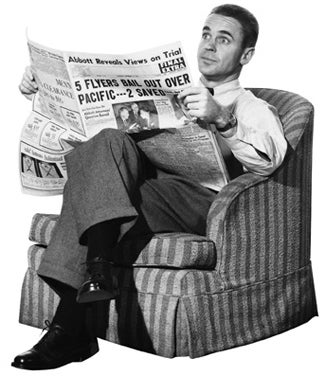 On Thanksgiving morning, I picked up a copy of the Columbus (Ga.) Ledger-Enquirer, the daily paper round those parts. I did it out of habit; I was eating an English muffin and needed something to do with my other hand. Whatever your thoughts about the newspaper industry, I think we can all agree that it's easier to pick up a newspaper with your left hand than type into a computer. If newspaper publishers could genetically fuse English muffins to everyone's right hands, the world of print journalism would look a lot different over the next few decades. Plus, your Kleenex would come lined with butter.
A few things I noticed about the paper:
1. Because no one wants to work late the night before Thanksgiving, all the sports scores were from Tuesday rather than Wednesday. This led to the rather odd sensation of reading a document that was literally 36 hours old, delivering news as if it had just happened. It is one thing to be scooped by online news sources overnight. It is quite another to miss an entire day of news and pretend as if you have not.
2. The most read pages of the paper, in the household in which I was staying and elsewhere, without question, were the ones with the comics, Dear Abby and the horoscopes. I had forgotten about Dear Abby. To read Dear Abby is to be beamed in from a universe in which everyone is mostly preoccupied with kitchen etiquette, spending the holidays alone and how to explain to suitors that you'd rather not accompany them to the fair. The only way Dear Abby could get any better would be if it were read out loud by Paul Harvey.
3. The Ledger-Enquirer has a section called "Sound Off," in readers can send in their unvarnished thoughts on issues of the day, and the paper will print them. It is, not to put too fine a point on it, exactly like the worst comment section of a blog you've ever read, minus the idiots yelling "FIRST!" A few selections:
*** Nowadays, if you pay attention to the facts and have common sense, they say you're "filled with hate."
*** Don't get angry when I blow my horn at you. Your phone conversation is not as important as living through your bad driving habits.
*** Ever notice that if you barely run that red light, the next lights ahead are green all the way? Traffic engineers should try driving in Columbus instead of playing with their computers.
*** Biden warned voters about the negative aspect of an Obama victory. The blood of the India terror victims is on the hands of Obama voters!
The best part about this is that the "Soundoff" page actually has its own comment section. Those are even better:
*** The word imbecile means an adult with the mentality of a six year old or a foolish or stupid person. It "must take one to know one" considering the spelling of the word in the previous comment. Funny!
*** Some embaciles will try to pin anything on Obama. How about pinning the stock market's conscequetive session gains on him too? That's where it belongs.
You can be a part of "Sound Off" by emailing soundoff@ledger-enquirer.com or calling 706-571-8583. You have to limit your comments to 35 words, though, so make the screaming count.
This is all to say: I love newspapers, with all of my heart. To this day, writing something for a newspaper means more to me than writing something online. But not that much more. Not enough more. Everything just seems to be moving ... so ... slooooow. I don't think this is because I have a short attention span. I think it's just different now. It happens.
There's been a debate recently about whom to blame for the decline of newspapers. Some say it's the blogs, some say it's the consumers, some say it's the journalists themselves. (I am far from convinced by this argument, taken down artfully right here.) I think the real answer is: Craig Newmark. Craig's List devastated the classified section of newspapers, which was a major financial lifeblood. This peaceful, idealistic 56-year-old Free Internet advocate dried up a major revenue stream. Blame him. Leave the journalists alone. They'll find a place. They're good. People will never stop desiring news. Obviously.
And hey: We'll always have books. Right? RIGHT?
Now, as I finish becoming the 45 millionth journalist to endlessly pontificate on The Future Of Journalism, we move on. Thankfully. Maybe we could settle this whole question just by asking Abby.
32. Detroit Lions (0-12). It was with much curiosity and delight that I saw this headline on the Detroit Free-Press site: "A 4-step plan to turn the Lions around." Four steps? Man, this plan must be brilliant! I would have expected at least 14. And then I caught the first one: "1. The NFL must assume temporary guardianship of this franchise." Wait, what? Columnist Drew Sharp suggests we "[d]eclare the Lions intellectually bankrupt and remove the decision of finding the next chief executive from [William Clay] Ford's hands." I can only assume the next three steps involve hiring a unicorn to play quarterback and installing an offensive line full of orcs.
"4. The Lions must cut ticket prices a minimum of 10% in response to a bad economy and bad product." Yep! I was right!
31. St. Louis Rams (2-10). A big salute to this guy, whose (presumably) imaginary new book is titled: "Causality, Subjectivity and the Disappearance of the Physical Frontier: A Theory of Black-Out Drinking as Time Travel." You know, I'd read that book.
30. Cincinnati Bengals (1-10-1). Palin watch! Actually: Fey Watch! I gleefully ate up Vanity Fair's (and Maureen Dowd's!) cover story on Tina Fey this month, mostly because I enjoy her husband so much. His name is Jeff Richmond, he is 48, he is short and he seems somewhat uncomfortable with what his life has turned into.
"I know how she feels about some things," Richmond tells me over coffee one day at an Italian place around the corner from his house. "Like, we never had to deal with any of this, but: adultery. Just looking at examples from other people's lives, we know that anything like that, messing around, is just such a complete 'No' to her. And she has her principles and she sticks to her principles more than anybody I've ever met in my life. Like that whole idea of, if you are in a relationship, there are deal breakers. There's not a lot of gray area in being flirty with somebody. She's very black-and-white: 'We're married-you can't.' " He calls their marriage "borderline boring-in a good way." And she concurs: "I don't enjoy any kind of danger or volatility. I don't have that kind of 'I love the bad guys' thing. No, no thank you. I like nice people."
So, in other words, when you're a 48-year-old Smurf who lucked into marrying the funny hot girl, you feel obliged to point out what a good guy you are for not cheating on her. Though you probably would, if she weren't so damned uptight about it. Well played, man. Class act.
29. Kansas City Chiefs (2-10). I didn't watch the Rosie O'Donnell variety show that ran last week — I know, right? The holidays are so busy, I miss out on everything great — but, from all accounts, it was epically awful. I have to salute Vanity Fair's Michael Rowe, for this line: "The first ten minutes she talked of her over-stretched undergarments. Don't get me wrong, her Spanx girdle, no doubt, worked the hardest of all on the show, but she was tugging and pulling and adjusting so much that I swear, the front row took cover, worried that things were gonna blow wide open. This is a large woman. She could pocket-dial a phone booth. When I fast-forwarded her, my Tivo had to stop and catch its breath."
28. Seattle Seahawks (2-10). While we're swiping things from great magazines that aren't the one I work for, you might remember our own Pat Jordan and his brilliant takedown of Jose Canseco, a story that led to Canseco firing his lawyer. Well, Jordan talked to Mickey Rourke for The New York Times Magazine, and it's quite a read. Basically, Rourke lies about everything, loves Sarah Palin, is obsessed with chihuahuas and once got fired from a film because Nicole Kidman was scared of him. (The film, in an odd twist no one's talking about, was In The Cut, which eventually starred Meg Ryan, whose mother happens to be married to ... Pat Jordan! Meg Ryan doesn't talk to her mother, by the way.) The story ends, amazingly, with Rourke and Jordan bonding over the honor of letting your dogs excrete on you. I fucking love journalism sometimes.