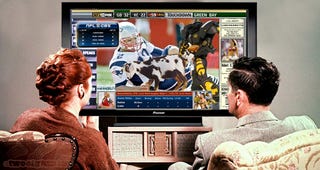 Drew Magary's Thursday Afternoon NFL Dick Joke Jamboroo runs, well, every Thursday afternoon during the NFL season. Drew's new book, "Men With Balls," featuring 100% new material, is available in stores and online here, and makes a lovely Christmas gift for the chronic masturbator in your life. You can email Drew here. Read him during the week at KSK.
In 1994, Fox introduced the FoxBox for the very first time to NFL viewers. No, the FoxBox wasn't a picture of Tracy Pollan's snatch (HEY-O!!!!). It was the first-ever permanent onscreen graphic that showed you the score of a football game.
Now, this was very good. Before then, the only way you knew the score of the game was coming in and out of commercials. Only sometimes, they wouldn't show you the score even then, because they were assholes. So I'm glad FOX head David Hill brought the FoxBox into my life, thereby forcing all other broadcast networks to follow suit. Now you and I can watch a game and know the score, which is kind of useful. Makes you wonder why they didn't think of it before, you know, nineteen ninety-fucking-seven.
I'm also grateful for CBS' introduction of StatTrax a few years back, which keeps a permanent crawl of other game scores and stats going on the bottom of the screen. This way, I don't have to get up and walk over to the computer to know that Laveranues Coles has FUCKING FAILED ME YET AGAIN. I play fantasy football, like all of you do (and for you holdouts, kindly go choke on your own shit), so seeing those stats is important, particularly if I'm at a bar or somewhere without web access.
But alas, I still find network scoring graphics to be woefully inadequate. Now, I have DirecTV. So I can bring up real-time scores on the Sunday Ticket menu any time I wish. Which is better than eating bread pudding while receiving a blowjob. But what of those folks who can't afford Sunday Ticket, or can't even get access to it? Well, they get hosed on their stats. And that won't do. Here now, are a couple way to improve the on-screen graphics during gameplay:
FOX must adapt the CBS StatTrax. I'm more apt to watch a game on CBS than Fox simply because CBS displays more stats from other games. Fuck, sometimes I don't even pay attention to the game. I'm just looking to see the stats move (Cutler got 15 more passing yards! WOOHOO!) FOX just has that little score ticker in the upper right hand corner. Hey FOX, you're behind the curve. Get with the goddamn times.
If a score changes elsewhere, tell us WHY. Whoa, the Steelers just scored another touchdown? Well, fucking how? I MUST KNOW THIS INSTANT. I demand real-time score alerts, with a little drop down graphic that tells you who scored and how. Is it that hard to flash "Ward – 15 yd TD rec" on the screen? I say no. FOX used to run little score updates on the bottom of the screen with their "duhduhduh DUH DUH DUH!" chime, that told you the most recent scoring play. BRING THAT SHIT BACK.
Also, more Game Breaks please. Those things are little oases of goodness in the shitty game I have to watch. How many game breaks do you get a game? Five? UNACCEPTABLE. I demand fifty of them.
Provide injury updates. This is always fun. You're checking the scroll to see how your fantasy running back is doing, let's say Larry Johnson. Only, when the StatTrax comes along, it says that Jamaaal Charles has 15 rushes for 56 yards or something like that. Well, excuse me Mr. Stat Man, BUT WHAT THE FUCK HAPPENED TO MY FUCKING GUY?! Is he hurt? Was he benched? Did he die? Why is this other asshole getting the carries now? I'M IN THE DAAAAARK HERE! Jesus.
Run the yardage leader graphics all fucking game. You know at the half, when they show you the day's leaders in rushing, passing, and receiving? I love that. Again, there's no reason not to implement this for the rest of the broadcast. Why do I have to wait until halftime for this shit? I WANT IT NOW, YOU PRICKS!
I realize that many of these graphic improvements will leave little room for actual gameplay. But honestly, half these teams are murder to watch anyway. You're not missing anything. I want my fucking information, CBS and FOX. And I know damn well the only reason you don't give me more stats and updates is so the NFL can get more people to sign up for DirecTV and buy Sunday Ticket. Don't think I don't know what the fuck you're up to. You go to hell. You go to hell and you die.
The Games
All games in the Jamboroo are evaluated for sheer watchability on a scale of 1 to 5 Throwgasms.
Five Throwgasms
Redskins at Ravens: Say, is Sunday Night Football sponsored by Sprint? I had no idea. They're so subtle about it.
Eagles at Giants: One of the more humorous things I saw last weekend were the NFL Play60 ads with Donovan McNabb, which talk seriously about all the ways the NFL is promoting a more "active generation". According to nfl.com, the program has two objectives:
1. Engaging youth and families in every community to make the next generation the most active and healthy generation.
Now, I find it rather humorous that the NFL is trying to promote a healthy generation when the average NFL player doesn't live past the age of fucking 52. Here is the second objective of the program:
Helping reverse the childhood obesity trend by 2012
One of the sponsors for the NFL's effort to get kids from being 400 lb. mongoloids who can only move by slithering around on their own belly grease? Frosted Flakes. Yes, nothing takes off the pounds quite like a bowl of pure sucrose. It may also be difficult for the NFL to get kids to stop being fat, considering that 90% of the ads they see on NFL telecasts are for beer, or for Bob Evans' new chicken fried chicken deep dish dinner.
Ah, but it gets even better. Go to the Play60 website and you'll find messages from additional spokesmen like Vernon Davis. Because no one embodies self-discipline quite like Vernon Davis. Why, he hasn't accosted a girl in over two months! Pretty good for a Maryland grad!
The site also features numerous tips on how to stay fit. Of course, these tips are submitted by readers, so they're less tips than retarded brain drippings:
FOOTBALLPRO4 shouted on November 20, 2008, 7:55 pm
I PLAY QB AND THE SKINS BETTER GO TO THE SUPER BOWL
KEVIN shouted on November 9, 2008, 10:34 am
go ladianian tomilson rules CHARGERS RULE!!!!!!!!!!!!!!!!!!!!!!!!!!!!!!!!!!!! !!!!!!!!!!!!!!!!!!!!!!!!!!!!!!!!!!!!!!!! !!!!!!!!!!!!!!!!!!!!!!!!!!!!!!!!!!!!!!!! !!!!!!!!!!!!!!!!!!!!!!!!!!!!!!!!!!!!!!!! !!!!!!!!
harlie shouted on November 4, 2008, 5:38 pm
i wish bob sanders came to my school
Mikey shouted on November 4, 2008, 5:38 pm
if you dont play football your weak!!!!!!!!!!!!!!!!!!!!!!
The kids on this site do burn lots of calories with their excessive typing.
Cowboys at Steelers: I'm really beginning to loathe the Roy Williams Rule on horse collar tackling. You're chasing a receiver or running back from behind. You're trying to get hold of him any way you fucking can. Who gives a shit if you grab his collar? His pads are strapped on. They aren't going anywhere. You aren't gonna garrote the fucker if you take him down that way. He'll live. Let defenders grab what they need to grab to take the guy down: his collar, his scrotum, whatever.
Bucs at Panthers: Holy shit, is Jeff Garcia annoying to play against. HOLD STILL, YOU LITTLE FRECKLY BASTARD.
Four Throwgasms
Falcons at Saints
Three Throwgasms
Dolphins at Bills: Did you know Josh Reed is still on the Bills? Jesus. Shouldn't he have been released, oh, five years ago? You were supposed to be a good sleeper back in 2003, you bastard!
Anyway, this game represents phase one in the NFL's grand plan to move the Bills to Toronto in such a gradual fashion that the people of Buffalo (and America, for that matter) fail to notice. With more on this is our Canadian correspondent Gourmet Spud: