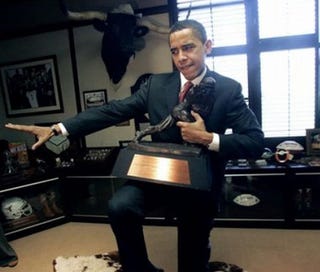 Three southern quarterbacks will sit in a room all dressed up being asked softball questions about how awesome it is to be a quarterback of a top five college football team. Then one of them will hold up a trophy of an old, old man stiff-arming an invisible linebacker. Follow the Heisman presentation after the jump, unless your last name Harrell.
* * * * *
9:01 — Well, damn, that went quick. If this was a college football game it'd probably be 4:29 left in the first, and they'd be reviewing an out of bounds play. Enjoy the brand new already-played football game, everyone.
9:01 — The voting breakdown:
1. Sam Bradford 1726
2. Colt Mccoy 1604
3. Tim Tebow 1575
4. Graham Harrell 213
5. Michael Crabtree 116
6. Shonn Greene 65
7. Pat White 19
8:58 — HIS SPEECH WON'T END. PLAY THE MUSIC!
8:57 — Thank me, Sam. Thank me. C'mon, I have to be next.
8:56 — GROWN MEN DON'T CRY, SAM.
8:55 — Why, that would be SAM BRADFORD.
8:54 — And the winner...
8:53 — Matt Leinart couldn't make the trip. He's busy ... playing ... football?
8:51 — Paul Hornung has pants on. Damn, this will be a close vote.
8:51 — Hahaha. BerWANGer.
8:50 — It's been almost a whole hour and we haven't even handed out Best Cinematography yet.
8:47 — We're leaving someone out. There's another quarterback from the south who long deserves to be mentioned in the breath of Colt McCoy, Sam Bradford, and Tim Tebow. There was a lot of commotion over him not being here tonight, and it's very understandable. Of course, I am talking about:
Name Of Quarterback: Johnnie Moxon
School: West Canaan High Coyotes
Stats: 1734 yards, 66.8% completion, 14 TDs, 5 INTs, 4 rush TDs
Actor Who Would Play Him: James Van Der Beek
Miracles Performed: Resisted high school girl in whip cream bikini, stood up to Jon Voight when no one else would, railed against the Texan high school football establishment of pro-set formations.
8:46 — Behind the scenes: "Poise" was almost a bingo square. Good thing I didn't include it, otherwise it'd have been riddled with sperm-bullets.
8:43 — By the way, you're probably wondering why the Barack Obama picture up top. It's because he was born in the next to Tim Tebow in the Philippines.
8:41 — Good, we got that Army Heisman winning guy out of the way. Now it's MONTAGE TIME.
Name Of Quarterback: Tim Tebow
School: University of Florida Gators
Stats: 2515 yards, 64.9% completion, 28 TDs, 2 INT, 12 rush TDs
Actor Who Would Play Him: Young Mel Gibson, or Jim Caviezel, or anyone who looks good drenched in blood
Miracles Performed: Became the only sophomore to win a Heisman trophy. Cured Percy Harvin's leprosy. Converted a state of hedonistic heterosexual football fans into loving, Christian schoolgirls. Fed the homeless by cooking a Brunswick stew out of nothing but his own internal motivation and a store-bought can of Brunstick stew.
8:40 — How did they find time to pry Andre Ware away from his busy schedule to make it to this presentation?
8:38 — By the way, about this Greatest Game Ever Played rebroadcast business. They're showing a re-run on ESPN prime time. Earlier on ESPN Classic, they showed a live college football game.
8:34 — There's a High School Heisman? And a guy named Leibowitz won it? Guess it's time to update the leaflet.
8:34 — "Tell me, coach Meyer. Share your defensive secrets on how to beat Sam Bradford. Coach Stoops, I entrust you'll cover your ears for this part."
8:32 — Take Sam Bradford's advice. Be great at every sport, kids!
8:30 — I have a feeling it was Sam's father's idea to cut his hair like 1970s-era Chevy Chase.
8:29 — "He always liked sports." Something tells me the angle of this Sam Bradford feature won't be "overcoming adversity."
8:26 — Mike Rozier handily won the 1983 Heisman over someone named Steve Young. Good thing he did. Because today he gets to be mentioned on a LIVE NATIONAL TELECAST sandwiched between features of today's hottest quarterbacks. And whatever happened to that other guy? Last I heard, people were throwing shit at him.