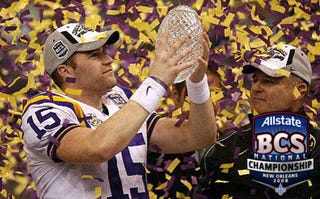 Here's one of my 2009 New Year's Resolutions a couple of weeks early: I hereby resolve not to consume the products of any company that advertises during the BCS Games for the entire month of January.
For purposes of this resolution consume is defined broadly. I'm not buying a car, a taco, a beer or insurance from the advertisers. I'd ask anyone who's disgusted with the current state of college football in America to join me. Take a stand for one month to express your outrage over college football's refusal to consider the wishes of their fans and institute a playoff.
We're approaching 2009 and the dawn of yet another season of BCS controversy. The state of Texas is contemplating becoming a Republic again, there are four games no one gives two shits about and ESPN has ponied up $495 million for the rights to air the BCS games from 2011-2014. Next year your team could be the one getting screwed. About this time of year everyone complains about the BCS but no one ever comes up with a solution that actually makes sense to end the BCS. That's because most solutions involve not watching the games, not buying the tickets, or relying on college football presidents and the companies that make money off the BCS to come to their senses. Plainly, for true college football fans, none of these are viable options. So we all end up pissed with nothing to show for it. At least until now.