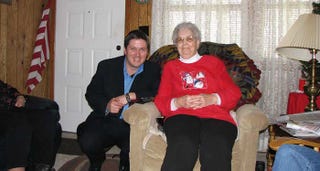 I went home for Christmas, and I dropped by and saw my grandmother. She's a very nice lady.
I try to see my grandma every Christmas. She's 88 years old, and she is frail. She has earned her frailty. She had eight children — my father is the oldest boy, and the fourth overall — and has watched them spread off in various directions, though none of these directions have branched off more than 30 miles from Mattoon. She made my girlfriend and me lunch. She was happy to have the company. She lives by herself, in the house her sons and late husband built for her 27 years ago. When we walked in, she was sitting on her sofa idly watching a soap opera, the table set and waiting. "Sometimes it gets a little lonely," she said. "I'm tickled pink to have you guys here."
She's 88, and she's earned it. She doesn't leave the house much anymore, just heading out three nights a week to play bingo, and she confessed to being a little annoyed when one of her kids won't let her drive to a game because the roads are too icy. She has a sign on her wall: "If moms were flowers, I'd pick you." Dad got her one of those digital picture frames for Christmas. The results of eight children flash next to her television every six seconds. She was wearing the kind of Christmas sweatshirt that only exists in the Midwest. "The kids were making fun of me for it, but when else am I gonna wear it but Christmas?"
We ate a chicken noodle casserole, and she talked about being 88. She's finding it odd. "Everyone keeps telling me I'm 88, but it doesn't mean anything." Her hands shake when she talks. "You just keep going, and eventually, people start telling you you're 88." My grandmother is famous for her spare ribs. Recently, she's noticed that people are asking her about them more often. "They want to know if I'm gonna take my ribs recipe to my grave. I told him I have it right now, and if they come by, I'll make it for them."
She talked about my grandfather. He died almost 20 years ago. His name, like mine, was William Franklin Leitch. He loved those ribs. My grandfather was a loving, but distant man; his job was to provide and be revered while Grandma did the dirty work. With eight children, there was a lot of dirty work.
We didn't really cover anything all that substantial. I only had an hour for lunch, and she was just happy to have the company. "Your Uncle Terry, he wanted to come by today, but I told him I had visitors." She giggled at this. She was delighted to be overbooked. Halfway through lunch, we found ourselves watching the digital picture frame. She commented on every photo. She knows the names and birthdays of every one of her children, grandchildren and great-grandchildren. She never misses a card. I get one every year, with 10 bucks inside. It's always a crisp bill, fresh from the credit union. She can't mail them anymore. The shaking makes her handwriting impossible to decipher. She just hands it to my Dad, and it ends up in the Christmas stocking. "Oh, there's Maggie," she says. "She sure does love that dog."
I kissed her goodbye, and we headed out to my car. My flight was leaving the next day, and I had a ton of packing to do, and a column to write. She hugged me and said how happy she was to see us. She asked me to remind my father that it had been a few weeks since he'd been by for lunch. She requested that I not forget to call her. She loves it when the phone rings.
I started the rental car, pulled out of the driveway, shifted into gear, adjusted my mirror and motored off. She stood in the window, waving, smiling, kind of, the whole way.
32. Detroit Lions (0-16). It's a shame there had to be so many games with playoff implications in Week 17. The Lions' winless season seems like such a signature achievement that it deserves a celebration to itself. I suspect we'll remember it a lot longer than the two squirrels tapping each other lightly to win the AFC West. Rod Marinelli is already gone — it might have been funny if they fired him after the third quarter of the Packers game — and a good indicator of how much he'll be missed could be found in his postgame comments.
After the Lions became the first NFL team to go 0-16, coach Rod Marinelli was asked if he was glad it was over. "No," Marinelli said. "I could go another 16."
We could too, Rod. We could too.
31. St. Louis Rams (2-14). Generally a bad sign? When a team that goes 5-27 over two seasons openly petitions to keep its coach. Particularly when that coach is Jim Haslett. The Rams are going to end up with the No. 3 draft pick next year. I recommend Lawrence Phillips.
30. Kansas City Chiefs (2-14). Even though this column is always published on Tuesdays, I write it on Mondays, because Internet time is the best of all possible times. This is not usually a problem. Unfortunately, not all coaches firings are known by 11 a.m. the day after the season. (As of this typing, alas, there are only three.) I'll come back Tuesday morning to update everything, as in, "The Chiefs finally got around to firing Herman Edwards, and the NFL is now 11 percent more boring." I could rewrite this whole paragraph with whatever the news turns out to be, but, jeez, do you realize how little Gawker is paying these days? Back in the days, three posts would get you a vial of cocaine and a month's supply of Adderall. Now? For every one of these columns, I receive half an Excedrin. Still worth it! (Update: Herm still has a job!)
29. Cleveland Browns (4-12). Nobody's quite sure what the Cowboys are going to do just yet, but I know what they'd do if they don't learn their lessons: They'll sign Braylon Edwards. Whether it was Costas Now or just those low-rent supplement commercials he does, as has been well-established, Edwards — who, I repeat, tied Michael Wilbon as the nicest person I met backstage before Buzz burst into flames — went from The Big Time Receiver Who Does Everything Right to Freddie Mitchell frighteningly fast. By the way, the Lions should hire Romeo Crennel. That might be fun.
28. Jacksonville Jaguars (5-11). Sad to say, but both Bill Simmons and I picked the Jaguars to make the Super Bowl this year. No one ever seems to get on Jack Del Rio's case about it, though. And because I'm hoping you forget I ever talked about the Jaguars this year, here's the world's most inspiring roller coaster photo you'll ever come across.
27. Seattle Seahawks (4-12). While every other coach leaving a lousy team seemed to receive a knowing nod and a journalistic kick in the face on his way out the door, Mike Holmgren got a red Harley. Nice for him. I wonder if he'll give it back when he's coaching the Cowboys in 2010.
26. Cincinnati Bengals (4-11-1). Palin watch! This is will be the last Palin Watch, and boy, that's a sad thing for everyone. It should come as little surprise that the Sarah Palin 2009 calendar is Amazon's best selling calendar, particularly because the cover shows her carrying a rifle. (Not exactly in the safest fashion either, I might add.) Anyway, you should really buy one, because it's one of those gag gifts that will seem awfully stupid around July, like the guy who named his fantasy baseball team "The Super Delegates."
25. Oakland Raiders (5-11). Don't look now, but the Raiders showed considerable pluck at the end of the season. We Buzzsaw fans would certainly have loved to have that kind of December momentum. (Oh, and the Raiders ultimately only finished three games out of first. Which is awesome.) Now that Oakland's out of the way, I'd like to point out other calendars I'd like for 2009.
Twilight cast calendar. This is $87.99.
Joel Osteen's Become a Better You 2009 Page-A-Day. Every January entry: Cap Teeth.
What Horses Teach Us.
Animals That Will Kill Yo A$$ 2009 Wall Calendar. OK, I actually want this one.
24. Green Bay Packers (6-10). For the last time in 2008, I present to you the lead story on the Green Bay Press-Gazette's home page: :Nicklases wear many hats as volunteers." Two elderly retirees in Green Bay volunteer for countless charities despite various health woes. "Vince Nicklas took on the volunteer president's duties about the time his own health took a turn that required him to undergo dialysis three times a week. He has battled cancer and kidney failure." I know every week I make fun of the paper for putting stories on the front page that would never make big-city papers ... but this is the type of story that big city papers suck at. Whatever your thoughts about the New York Times, but it's pretty rare that people clip an article out of that paper because it's about a friend of theirs who's a really nice person. That still happens with home town papers. Maybe it's because I've been home for a week, but that cheered me, at least until mid-2009, when every small town paper is dead.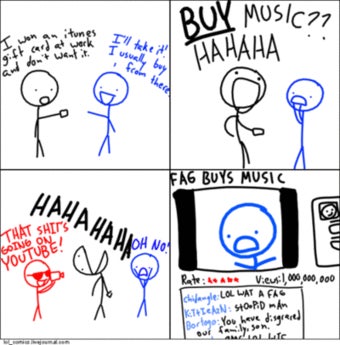 23. Buffalo Bills (7-9). I'd like to thank Nick Douglas for this touching visual interpretation of how every single one of my friends thinks of me for still paying for music on iTunes.
Sorry. It still feels like the right thing to do.
22. San Francisco 49ers (7-9). Remember that play at the end of the Buzzsaw-49ers "Monday Night Football" — yes, it was this night — when a touchdown would have pulled off the upset for San Francisco? If they had won that game, they would have ended up with the same record as the Buzzsaw. I suspect Mike Singletary would have been rather entertaining in the playoffs. But not as entertaining as the endlessly charismatic and dynamic Ken Whisenhunt!