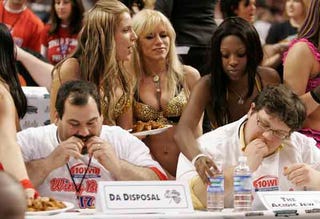 Bleccch.
My friend John Gonzalez, the Philadelphia Inquirer's first Mexicanish sports writer, actually entourage'd this year at the 17th annual WIP Wing Bowl in Philadelphia. Gonz was the cut man for his buddy, Wax, whose clever wing-eating moniker was "Gluteus Waximus."
He shared some of these tidbits from his lonnnng day in the hot sauce-soaked pit of death.
• Waximus finished 8th, even though Morganti put his odds at 50/1. He ate 79 in the first 14 minutes.
• One guy named "Obi Wing" made the final 10. Crazy dude who carries a light saber with him everywhere — in real life, not just in the competition. Seriously, he goes down the shore with it. The Sea Isle lifeguards can't stand him. He qualified by eating a whole pineapple, including the hard-ass shell. Completely off his nut. In the second round, he was the first to puke.
•....Which was awesome, because he was next to Wax. At which point Wax stood up and called it quits. He didn't want to eat wings with vomit all around him. Pussy.
• The guys who won best entourage built a mini-Spectrum and towed it into the arena with a golf cart they made up to look like a Zamboni. They won a trip for 12. Fuckers.
• Our Wingette was ridiculously hot. We got lucky. Some of the others were rough looking. High hair. Completely Emaciated. Yellowed Teeth. It was like a White Snake concert in there. But people still screamed "show us your tits." It was not a choosy crowd.
Wing Bowl!
Anyway, fun week this week. Here's some stuff that went kaplooey: