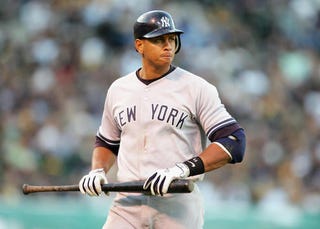 This just seems gratuitous. Hot on the heels of Joe Torre's "A-Fraud" revelations, Sports Illustrated has published a story claiming that Yankees slugger Alex Rodriguez tested positive for two different anabolic steroids in 2003.

In a story published today on SI.com that will probably not surprise the readership of this site but that will provide Around The Horn with weeks of material, Selena Roberts and David Epstein write that Rodriguez tested positive for both the anabolic steroid Primobolan and, in a surprising twist, testosterone:

Rodriguez's name appears on a list of 104 players who tested positive for performance-enhancing drugs in Major League Baseball's '03 survey testing, SI's sources say. As part of a joint agreement with the MLB Players Association, the testing was conducted to determine if it was necessary to impose mandatory random drug testing across the major leagues in 2004.
Surprised? You shouldn't be if you've been listening to the one man who's, oddly enough, been right more often than not throughout this whole steroids issue, Jose Canseco. Last March, Will Leitch wrote about Canseco's book, Vindicated, in which Rodriguez is tied to steroids.