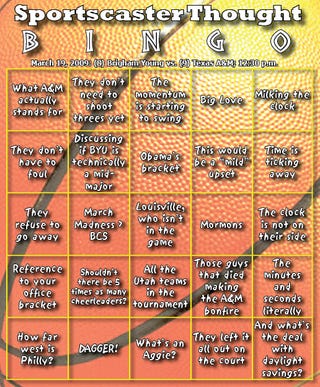 Your live blogger for this game will be Stephen from the defunct Cousins of Ron Mexico. These days he can be seen scribbling at The Big Lead and Major League Jerk.
*****
Good afternoon everyone. As you might be able to tell from the headline of this post, I'm here to type quickly about the collegiate basketball contest between BYU and Texas A&M. I am well aware this is the game that is causing you to lament being stuck at work this afternoon. For that I'm sorry. Don't think this live-blog is my attempt to shove that fact in your face.
This is a rematch of last year's first round match up which A&M won by 5. This year, they're the same seeds and pretty much the same teams.