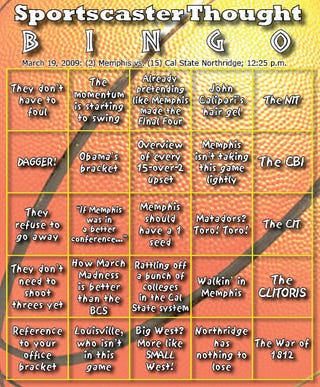 Your live blogger for this game will be Queens resident Ben Muschel, who — until he finally starts law school — blogs about The West Wing. Please don't tell him how it ends.
*****
Hello friends. (I believe Jim Nantz made it federal law to start all NCAA tournament discussions with those words.) For reasons they are sure to regret, Daulerio and Sussman have opened the gates, allowing people like me to type words that appear on their holy site. I assure you, as I did them, that my credentials for providing this "distraction" in the guise of a "live blog" are best summed up by George Costanza: "Maybe I could be like, an announcer. Like a color man. You know how I always make those interesting comments during the game."'
Anyway, your game: #2 Memphis vs. #15 Cal State Northridge. Already I don't like typing it, so be prepared to see a lot of "CSN" and try not to immediately think of Crosby, Stills, and Nash. Memphis is 31-3, 16-0 in their conference, and last year's runner-up. Here's what I know about the 17-13 CSN Matadors: 1) They play in the Big West. 2) ESPN.com has their "Notable Results" as: UCLA (L by 18), @San Diego St. (L by 16), @New Mexico (L by 11). 3) Their leading scorer, Deon Tresvant, got suspended for allegedly stealing electronics equipment. And their starting point guard, got injured in a car accident. Adds Whitlock, for good measure, "For my money, Northridge is the worst team in the tournament." So, um, this should be a doozy of a game. 19.5 is the spread, and I have half a mind to bet that for the first half. Billy Packer would like to advise you to turn off your TV right after tip-off.
Your announcers: Tim Brando and Mike Gminski.
Your live-blogger: I'm Ben, also known around these parts as Student of The Game. My biggest contribution to Deadspin before today was making this happen. Nice to meet you all.