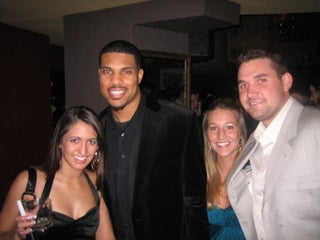 S
Got an image you'd like to see in here first thing in the morning? Send it to tips@deadspin.com. Subject: Morning crap
Campbell plays Detective Swifty Chillin, a no nonsense cop who's just lost his partner(his mentor) in a violent gunfight with some of the local mafia. Chillin' wasn't there, though, because for once in his life...he was just chillin' on vacation.
Now he has a new partner, Frances T. Mackin'(Zimmerman), a transfer from Smalltown, South Dakota, a big ol' country rube with an itchy trigger finger that's often covered in peanut butter. Initially, Det. Chillin' can't stand Det.Mackin'. But then after Mackin' saves Chillin's life ( he pushes him out of the way of a falling Thanksgiving Day parade float that was set on fire) and shows him a good time, the two become inseparable. The two really bond when Mackin' shows Chillin' his other talent — the ladies.
*****
Good morning, here's the song that inspired Wake Up Deadspin.