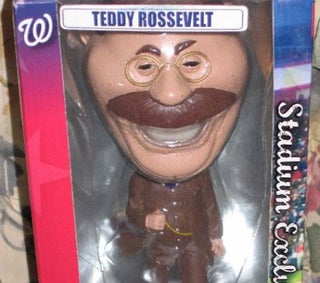 S
Got an image you'd like to see in here first thing in the morning? Send it to tips@deadspin.com. Subject: Morning crap
How was your Memorial Day weekend? I assume it was a somber, respectful affair spent in quiet contemplation of all that our military veterans have given us. Military veterans like Teddy Rossevelt, leader of the Ruff Ryderz, and hero of the Battle of Sand Juan Mountain. I think he was also a Senator or something, which explains why the Nationals—who should also be the Senators but aren't—would turn him into a bobblehead and sell these in their own souvenir shops. A more fitting tribute, I cannot imagine.
Seriously, it's like the entire organization isn't even trying any more.
Nationals Bobblehead Fail [DC Sports Bog]
* * * * *
I've had no requests to wire bail money to Indianapolis, Indiana, so I assume everything went swimmingly this weekend. Give us some time to shake off the cobwebs on this Mon...Tuesday morn, and we'll get this train a rollin'.