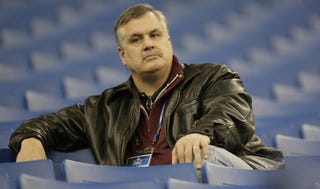 Sports Illustrated has just published—courtesy of writer Don Banks—one of the most head-scratchingly bonkers essays of all-time, wherein Banks compares Matt Millen to Richard Nixon ... and somehow thinks that a compliment.
I wouldn't normally single out an individual opinion piece for criticism (because if anyone did that to me, I'd be ruined), but ... come on. Why would anyone defend Matt Millen? How could anyone defend Matt Millen? The thesis revolves around the fact that Millen has been hired to do color commentary for the NFL Network, which will keep him steadily employed by football despite that fact that he appears to know nothing about football. He is unquestionably the worst GM of all time. However, Banks is actually happy to seem him back in the booth and thinks his star will rise again, somehow rendering my previous sentence irrelevant.
His model for Millen's redemption? Richard Milhous Nixon.
I know it all sounds a bit preposterous right now, predicting a comeback before he's even done his penance. But when I think of Millen, I just get the feeling he's got a shot to become something of the Richard Nixon of the NFL, picking up the pieces of a colossal failure and re-emerging to prominence at some point in the future. Dare we say it, perhaps even an eventual return to power in some team's personnel department?
First of all, he has not served any penance. He was unemployed for two months and then his friends gave him a job. That's part of the problem. Second, let's clear up the matter of whether Matt Millen was a good broadcaster. May I quote the esteemed Dr. Magary?