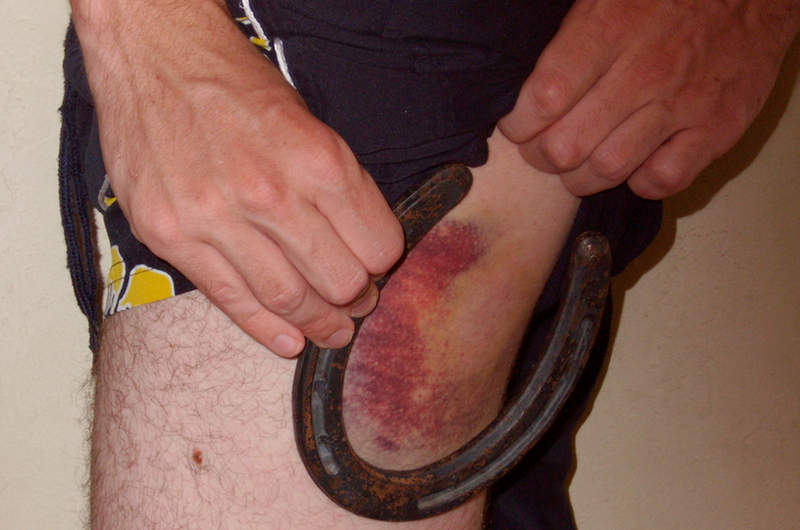 A good portion of Americans join softball leagues this time of the year. Many do it for the social aspect alone, which leaves many teams stockpiled with players who are ridiculously awful.
Each week, we'll rundown some of the more comically bad softball atrocities by some of these players. If you've got your own, please send it along to tips@deadspin.com. Of course, these are [Sic'd] for your viewing pleasure.
Would Everyone Please Stop Sliding?
You have to wear sliding shorts if you're going to slide. Have to. A must. Especially if you're wearing shorts.

I got this nice raspberry sliding into second in low level coed playoffs last year. Well, it was more of a flop/bounce than a slide. It's 12 months later and I still have a grapefruit sized lump on my ass cheek. Horseshoe used for comparison's sake.
Hamstrings Are The First To Go
Attached is photos from a guy on our softball team that tore his hamstring just one week ago. He usually plays 2B but our 3B was out so he wanted to play on the hot corner. He actually had a great game. He tore it while catching a foul ball near LF. He took off down the foul line, took his hat off and made a Jim Edmonds like catch. Little did he know though he received a 3rd degree hamstring as well according to a doctor. Hope this makes it.
This Guy Completely Deserves This
Dear Sirs,

Longtime reader, first time submitter. My buddy, let's call him Frankie S. Valenzuela Jr., didn't even slid to render his leg into the likeness of ground hamburger. He slipped rounding 1st base. Luckily, our team managed two runs for his heroics earning us a final score of 20-2. Yup, we were the team that sacrificed our limbs to avoid the shutout.
No, It's Not Softball, But You Should Be Proud
Hey Deadspin...

Big fan of the site, actually all of us here @ the Boomer and Carton Morning Show on WFAN in NY are (Will Leitch was actually a guest on our program back in Feburary). When I saw the picture of the broken ankle on your page it brought back some not so pleasent memories. I broke my ankle back in January of 2007 playing basketball (not softball full disclosure) and here are a couple of nice pictures. On a side note, my wife was 8 months pregnant with our first child at the time, needless to say she was less than thrilled. I currently have a screw and pin holding it together...Good Times...