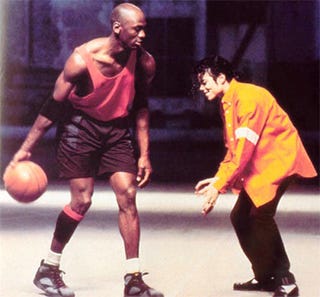 I was as surprised by the reaction to Michael Jackson's death as I was the death itself, though I shouldn't have been. Is there anyone in sports whose death we'd react to in a similar way?
I don't mean that in a glib way. (Mostly.) The strangely moving aspect of Michael Jackson's death was how we so quickly dismissed the freakshow he'd become over the last 20 years and focused almost solely on the music, and just how fucking great it really was. His death shouldn't have shocked us as much as it did; clearly, something was wrong with that guy. But it did what death is supposed to do: It gave us the needed perspective to hark back and reevaluate the artist, understand what it was we'd truly lost, give us something to all share as one. If you would have told me two weeks ago that Michael Jackson's death would turn into a week of shared grief, I would have thought you were crazy. That weirdo? Come on. And now that it has happened, in retrospect, it seems obvious we'd react this way. We'll actually all remember where we were when Michael Jackson died. Never would have thought that.
And it got me to thinking: What sports deaths would cause us to have that reaction? Who in sports could die right now and jolt people in that way? Who would shake us like that? Whose death would cause such an unconscious re-evaluation?
So, this week's Ten Humans is a thought experiment. It's my list of the 10 people in sports who, if they were to die tomorrow, would inspire similar recalculations in the public consciousness. Whose death would affect us the most? It's a little morbid, I grant you. But I think it's instructive.
A few parameters to let you know where I'm coming from:
1. Age Matters. If, say, Willie Mays died tomorrow, it would be tragic and awful, and it would cause countless reminisces from Baby Boomers — I'm pretty sure there'd be a Bob Costas-Billy Crystal special within the hour — but I'm not sure it would be shocking. That is to say: Willie Mays is 78 years old. The same goes for Vin Scully, or Bob Pettit. Epic figures. Great men. But old. Their death loses points because of their own longevity. Sorry.
2. Culture Importance. Stan Musial was a better baseball player than Pete Rose, but he hasn't contributed nearly as much to the national conversation as Charlie Hustle. We account for that.
3. Historical Recalculation. When Michael Jackson died, we really did dismiss the weirdness — and, perhaps, evil — and remembered what truly made him great. We even felt a little bad for forgetting about that in the first place. That's a factor too: Roger Maris' death grew in significance because we had pegged so wrong in the first place. Our own guilt, revisited upon death, adds to the equation. It's the Man, now that we look at it, we were harsh to that guy principle.
4. Shock Value. Obviously, we remember Len Bias' death more because he was 22 when he died. In the same way you are inherently sadder when a relative dies suddenly than you are when they've spent 15 years slowly wasting away in a funeral home. It's not fair — after all, dead is dead, and it sucks to die no matter how old you are — but them's the breaks.
5. Specific Vivid Memories. The true joy from the Tyson movie — the only real joy, if you ask me — is watching the montage of knockouts, those massive bursts of violence that made him Mike Freaking Tyson. Anyone who watched sports back then remembers just how amazing it was to watch Tyson, and can share those memories, in the same way you could share memories of the Michael Jackson Trapper Keeper you had in the third grade.
Anyway, those are the parameters I'm working from here. What deaths would effect sports fans in a Michael Jackson way today? Here are my nominees. Let's hear yours too.
Muhammad Ali. Kind of a no-brainer, and even though he's old — only 67, actually — and feeble, the public outpouring of affection for him would be enough to stop most normal conversation for a day or so. ESPN's upcoming "30 for 30" documentary series — which you'll be hearing a ton about over the next couple of months — features one film on Ali's fight with Larry Holmes, back when Ali had a mustache and got himself pummeled. It's going to inspire a whole other round of Ali worship ... not that he'll need it. Ali was dominant, important and charismatic, and his late-in-life deification has allowed most people to forget how truly (and unfairly) despised he was at one point by the national media that now reveres him. I think Jeremy Schapp will be on television for 30 consecutive hours when Ali dies.
Charles Barkley. It's insane what Barkley gets away with, even today. Let's not forget: Not only did he get charged with a DUI a few months ago, he told cops it was because "I was gonna drive around the corner and get a blow job." He took a month off, and by the time he had returned, everyone had forgotten about it. Barkley is charming, funny and hilariously blunt, and all this obscures that there seem to be some legitimate demons bubbling underneath there somewhere. (The guy threw a man through a plate-glass window.) Generally speaking, we've all had this quiet grand vision for Barkley; he's too smart and fascinating not to run for public office, or cross over to the mainstream non-sports culture in some dramatic way. But he's not living the most healthy life either. If Barkley died, there would be a palpable sense of loss, and what might have been. Plus, you could just run clips of him talking for about three full days.