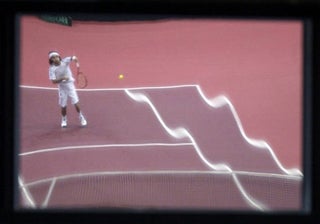 S
Got an image you'd like to see in here first thing in the morning? Send it to tips@deadspin.com. Subject: Morning crap
They didn't create Wimbledon or the French Open with Americans in mind. Their tournament finals happen to fall during the hours when most Americans are just waking up in tepid puddles of bodily fluid (preferably one's own, although we can't all be so fortunate).
When creative Reuters photographer Petr Josek decided to snap Argentinian Davis Cup player Juan Monaco through a mirror, he thought he was being artistic. Instead, he's just screwing with all our heads. Also, Juan Monaco? That's gotta be a fake name. Probably testified in a murder trial.
Buenos nachos, chimichangas. I'm feeling extra frisky this morning. Don't star someone within 30 minutes of eating.
* * * *