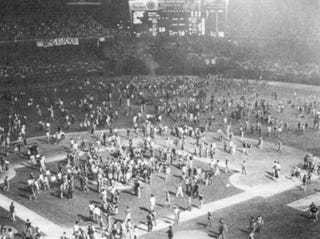 In an alternate universe, Deadspin's archives would cover the whole scope of human history. Occasionally, we like to revisit those timeless moments that we would have written about, if only we could have. Today: The night disco died.
July 13, 1979
Anti-Disco Promotion Forces White Sox To Forfeit
The White Sox and Tigers had a little trouble completing their doubleheader last night, since ... you know ... Comiskey Park was burned to the ground by rioting, disco-hating fans. You've done it again, Bill Veeck!
Last night was something called "Disco Demolition Night" in Chicago. A local radio station cooked up the promotion and fans were encouraged to bring their old disco records to the park so that they could be collected and destroyed on the field. With a bomb. They literally blew up the records in the middle of the outfield between games while fans changed "Disco Sucks." Hard to believe that something like that could go haywire. It's now officially the best idea since 10-Cent Beer Night.