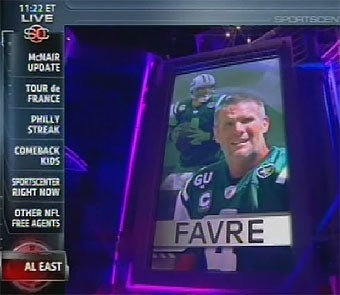 Without much trouble, you could probably puzzle out what the two most talked about stories are today....but can you also deduce why The Worldwide Leader hasn't mentioned either one? (UPDATES BELOW)
One is obvious; the other is not so easily explained away.
It's no surprise that the Erin Andrews story has been completely spiked by the network. No matter what journalistic ethics might be in play here, they can hardly be blamed for protecting one of their own. They are never going to discuss it and no one really expects them to.
However, as of noon today, neither SportsCenter nor ESPN.com has reported anything about the Ben Roethlisberger lawsuit. Pro Football Talk first reported it last night around 7:00 p.m., even without knowing the specific contents of the complaint, because the quarterback of the Super Bowl champions being sued for anything would appear to be noteworthy. After all, if a story about Tony Zendejas—a long retired kicker—and his rape allegations can make the NFL headlines, certainly Big Ben should merit a mention too. (Zendejas was acquitted at trial and is now suing police over the false accusations.)
There has been one place reserved for the network to occasionally acknowledge something that anchors and reporters won't discuss on air. SportsCenter's daily Blog Buzz feature gives the riff-raff like us a brief moment in the sun and serves as a prominent admission that yes, ESPN does not control everyone's thoughts. To take one relevant example, last week Blog Buzz mentioned our collective fascination with Andrews getting clocked on the chin by a foul ball, even though it was never reported as an actual news story.
So guess what segment didn't show up on SportsCenter today? That's right Blog Buzz, which usually appears like clockwork before the 11 o'clock hour, was conspicuously absent from the rundown this morning.
According to the network, Blog Buzz stories are chosen by an unexplained algorithm that ranks the most-talked about stories on over 3,500 sports blogs across the 'net. Throughout the life of Blog Buzz there have naturally been suspicions that ESPN manipulates the supposed rankings of stories to suit their tastes, but "Buzz Manager" Hannah Patrick insists it's all the math talking.
On her Twitter feed yesterday, she said that Andrews didn't make yesterday's segment because the stories were spread out over the three days of the weekend and thus diluted in value—but that she "would expect to see it" today. Now we'll never know. ESPN may not be able to manipulate it, but that doesn't mean they have to air it.
Were Erin and Ben highly ranked in today's final numbers, and if so, is that why Blog Buzz didn't air? With or without blogs, will they ever discuss either of these (now) national stories? The Andrews tale was featured on the cover of the New York Post today—quite crudely, by the way—and that is not a rag that generally concerns itself with obscure (i.e., non-Yankee) sports personalities. The AP has picked up the Roethlisberger accusations. So when will ESPN follow suit?