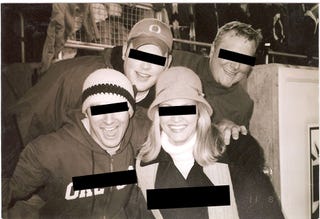 We get a massive amount of tips in our inbox each week. Some are pretty interesting, but don't get published for one reason or another.
It's usually because they're just so absurd or really lack even the most tenuous of news angles to give them the go-ahead. Other times it's because they're just absolute horseshit. But every Friday until we get sick of running them, we'll present to you some of these not-so-shiny gems. All items should be treated as [Sic'd]. Enjoy...
Yeah, This Is A Splendid Idea. And Not At All Creepy. Nope. Not One Bit.
AJ,

I don't know if you read this but if you do, maybe we can figure out a way to deal with the Erin Andrews saga. Over the years of her being on the sidelines we, the fans, have come to objectify her and want her. ESPN made sports sexy and beautiful but there was a dark consequence. After awhile of seeing her on TV and listening to her decent amount of knowledge of the sport she was covering, I begun to respect and a reporter and a person.

Last week when that video of her in hotel room was posted, I was shocked. The thought that someone, anyone, could go up to you peephole and record you is damn scary. That could my mother, my girlfriend, my sister, even me. You think when you close that hotel room door you have your privacy but we saw that busted. The creep who recorded her deserves everything he has coming to him, problem is I don't if we will ever find him. The creep violated Erin Andrews privacy and stole her trust of the fans in the process.

He totally and completely disrespected her and I wish I could comfort her or apologize for his actions. I feel guilty that someone would do that and creep-ed out that it will happen again. Perhaps Deadspin can create an Open Letter to Erin to somehow apologize for his actions and hope she understands that what he did does not represent the fans as a whole. Like Will said, if I saw her right now, it would be hard to look her in the eyes.
That's Mssrs. Bitches, Sir
Normally I respect your site, at least I did up until I read this. What the fuck is wrong with you guys? At least respond to his points like men and not bitches?

Why don't you address his points you fucking assholes? As you can tell this has really got me agitated because I agree with a lot of what he wrote and your site's response is a joke, just like Stu Scott said it was.

You want respect? Earn it you little bitches.