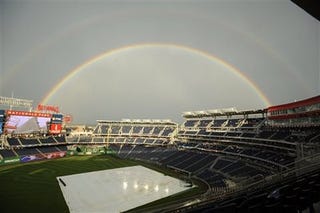 The week's ending. You need shit to do. Well, fear not. For I have compiled a list of worthy activities, media and/or ingestible chemicals to help you entertain yourself.
Five Throwgasms
Sit Through Rain Delay At Nationals Stadium: I went to a Nationals game last night with this jackass. There were two separate rain delays. Normally, you'd assume rain delays are fucking terrible. Not so, my friend. Not so. Thanks to the rain, I got to hang out around the stadium bar and get even drunker than usual. AND I now had a built-in excuse with the wife for staying out later into the evening. ("What can I do, honey? RAIN IS GOD'S WILL.") Plus I got to watch the torrents of rain pound down on the tarp in front of me, and on the Anacostia River behind me. FUCK AND YES. I would argue that watching a thunderstorm is significantly more entertaining than watching actual baseball. There was lightning, too. It looked totally badass. When the rain ended and I had to go watch baseball again, I was crushed.
Beer Gardens: There is nothing outside of Nationals Stadium. Every development that was supposed to be built around the area has been suspended indefinitely. So when you walk from the Metro to the gate, there's nothing surrounding you except for giant wooden construction area walls with huge banners advertising all the cool shit that's supposed to be there but isn't. So that sucked. Ah, but then there was The Bullpen, a giant outdoor beer garden where you can pay $5 for a tall boy bottle and lounge around sitting on picnic tables. I enjoy any large outdoor space that is reserved exclusively for group drinking. It's the one fun idea Germans have ever had.
Four Throwgasms
"Return to NOD," by High on Fire: METAL! Special thanks to the handful of readers that endorsed High on Fire. I like any metal band that produces excellent riffage AND commissions some kickass cover art. That demon's got a bag of skulls with him. THAT MEANS HE'S NOT TO BE FUCKED WITH.
Three Throwgasms
The Surprise Twist Ending To Orphan: (Spoiler in the link) I believe my friend KOGOD had the best reaction to this: "Well now I don't feel so bad about masturbating to that trailer."