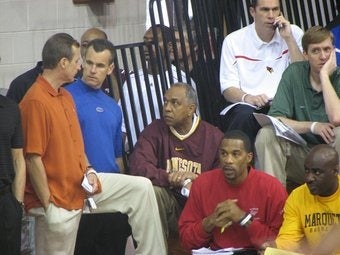 It's hard to determine which end of the recruiting process is more corrupt. In one corner are the coaches who feed egos to drive theirs; in the other are the AAU type who extort high schoolers' phone numbers for cash.
The money's not just for admission to their showcase tournaments, either. College coaches are often forced to shell out extra for packets of information that sometimes don't even include the recruits' jersey numbers, writes The New York Times' Pete Thamel. It's a surcharge of, oh, $300. Just an average day at the local gymnasium.
Some coaches — Vanderbilt's Kevin Stallings and Yale's James Jones, notably — went on the record to decry the shady entrepreneurs. The ones with clout — Mike Krzyzewski, Ben Howland, Thad Matta and Tom Izzo, among them — declined to comment. Which is a shame, because while they lobby behind closed doors, they could also take a more public stand. It's not like the NCAA will. After all, this is a bureaucracy that requires four years to potentially paint a 24-inch arc on a basketball court.