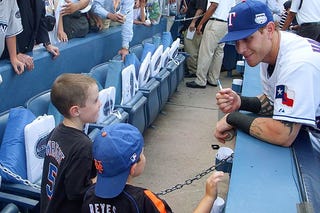 "I don't put a lot of credence in someone saying they have photographs of Josh in a bar," says Johnny Narron, a special assignment coach with the Rangers and Josh Hamilton's "accountability partner" since 2007.
Narron has been at Hamilton's side since their days in Cincinnati (where Narron's brother, Jerry, was the manager). The two bonded over their shared faith, and when Hamilton was traded to the Rangers, Narron followed him. Today, he serves, in Sports Illustrated's words, as a "baseball mentor, personal confidant and chaperone." He is not a babysitter, as Hamilton has pointed out, but he does keep tabs on his charge's whereabouts and stays in an adjoining hotel room on the road.
"I'm with him all the time," Narron says. Which is why Narron doesn't "put a lot of faith" in the photos I've described for him. "He doesn't have to ask me to go anywhere. He tells me where he's going to be."